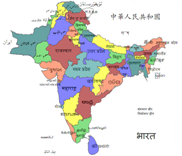 Lalith in charge of LLRC implementation mechanism
In the wake of an Indian parliamentary delegation visiting Sri Lanka on a fact-finding mission, External Affairs Minister Prof. G. L. Peiris has written to Chief Ministers of all Indian States on the progress made in the post-war national reconciliation process.

Responding to a query, Prof. Peiris said that the GoSL felt that it would be useful to brief Chief Ministers as part of the overall efforts to keep all stakeholders up to date.
Minister Peiris said that GoSL was confident that they would appreciate GoSL efforts to address issues, including the recommendations made by the Lessons Learnt and Reconciliation Commission (LLRC).
Although Tamil Nadu Chief Minister Jayalalithaa Jayaram's ruling AIADMK pulled out of the delegation at the eleventh hour, Prof. Peiris wrote to her. Tamil Nadu Opposition DMK, too, boycotted the visit.
Meanwhile, the government has set up a high powered committee to implement LLRC recommendations, which would acceptable to the government. Headed by presidential secretary, Lalith Weeratunga, the committee was in the process of formulating a list of recommendations.
Asked whether LLRC proposals in their entirety would be implemented, Prof. Peiris emphasized the majority of recommendations would be implemented. But it wouldn't be realistic to expect the GoSL to implement the entire set of proposals, the minister said adding that all UPFA constituents were recently asked to furnish their proposals to the Weeratunga Committee, which would function as the implementing mechanism. Elaborating further, the minister said that choosing LLRC recommendations would be a political decision, whereas the Weeratunga Committee handles implementation.
Prof. Peiris said that the SLFP, too, would provide its own response. Although there is no deadline for UPFA constituents to furnish their response, many political parties made available their position.
Responding to another query, Prof. Peiris said that forthcoming bilateral talks with the US would give GoSL an opportunity to discuss the entire gamut of issues. Prof. Peiris said that Media Minister Anura Priyadarshana Yapa was invited to join the delegation as he headed the Sri Lanka-US parliamentary friendship association.
The Sri Lankan delegation is scheduled to leave on May 14 for five-day visit, with the meet with US Secretary of State, Hillary Clinton scheduled for May 18th.
By Shamindra Ferdinando
IS