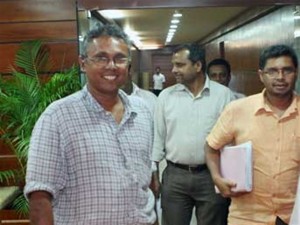 FUTA president Nirmal Ranjith

The Federation of University Teachers' Associations (FUTA) says a group of academics who attended a conference overseas have been harassed after the military claimed that they had gone to attend an event in support of the LTTE.
Recently the Chief of Defense Staff General Jagath Jayasuriya made a public statement claiming that some academics had attended a conference organised by the Transnational Government of Tamil Ealam.
Subsequently, the Secretary, Ministry of Higher Education, Dr Sunil Jayantha Navaratne as well as the UGC Chairperson Prof Kshanika Hiriburegama had said that investigations are underway about the participation of several Sri Lankan academics at this conference.

The UGC Chairperson has called for reports from the relevant universities on this matter and has also stated that the respective Council should take necessary action against these academics. On their return, the academics concerned were questioned at the airport regarding the agenda of the conference by CID officials.
FUTA, as the representative union of academics of state universities in Sri Lanka, however says the academics had gone to attend the World Research Conference on Tamilological Studies 2013, an international conference at which Tamil scholars from around the world participate.
"The President of the Conference is Emeritus Professor A. Sammugadas, University of Jaffna. Over one hundred papers have been selected for the conference on a range of subjects such as science and technology, religious and cultural memories, architecture and design, genealogy and kinship, race and ethnic relations, archaeology and historiography as well as many more areas," FUTA said in a statement.
FUTA is concerned as to the manner in which vague allegations have been made at these academics in question.
September 3, 2013
CG