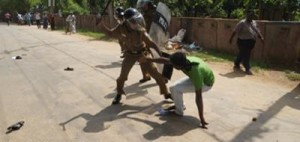 Stop intimidation! Police assault a Uni student, Jaffna
Federation of University Teachers Associations (FUTA) has been informed that Mr. Amirthalingam Rasakumaran, member of the Executive Committee, FUTA and the President, University of Jaffna Teachers' Association (UJTA) which is affiliated to FUTA has been asked by the Terrorist Investigation Division (TID) under the Ministry of Defence to come to Vavuniya for inquiry at about 9.00 am tomorrow (22/12/12).

We believe that the reason that Mr. Rasakumaran has been required to appear at the TID is his involvement as the President of the UJTA in taking action against the assault on Jaffna University students by SL army on 28.11.2012 and related issues.
We believe that the action of UJTA presided by Mr. Rasakumaran in this connection has been legal and above board and hence requiring him to appear at TID amounts to intimidation of lawful activities carried out by the UJTA and other teachers' unions in Jaffna University affiliated to FUTA to restore an environment within the university where both the students and teachers feel safe to carry out their academic activities.
FUTA strongly urges the authorities to immediately stop intimidating the academics and students of the University of Jaffna who are acting democratically and lawfully within the rights all citizens of Sri Lanka should be able to enjoy and help restoring the normalcy within university immediately.

Dr. Nirmal Ranjith Dewasiri
President / FUTA
21st December 2012