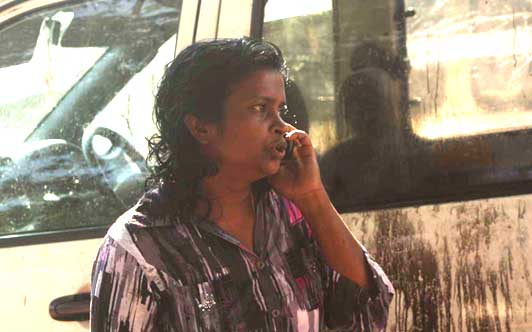 Atygalla after the black oil attack
JVP breakaway faction, the Frontline Socialist Party (FSP), yesterday claimed that the Jaffna police purposely delayed them when they visited the station to lodge a complaint regarding their politburo member Dimuthu Atygalle being smeared with burnt engine oil on Sunday.
Dimuthu Atygalle, who is also the president of the organization titled 'Women for Freedom' told The Island that they went to the police station at about 3.00 p.m. and were kept waitng till 6.30 p.m. before their statements were recorded.

"Although we gave them the number of the motorcycle that was used to douse me with burnt oil, they did not make any effort to trace it," she said adding that it was very easy to trace a vehicle by the number in Jaffna as security was tightly enforced there.
Atygalle said that they found a three wheeler without a number plate and a motorcycle following them when they stopped in Chavakachcheri, on their way back to Colombo, to wash away the burnt oil from her body.
The number of the motorcycle could not be noted as it was around 7.30 p.m. and very dark, she said.
Again, they were harassed at the Omanthai check point, Atygalle said adding that army and police officers delayed their journey to Colombo by 30 – 45 minutes asking several unnecessary questions.
When contacted by The Island for comments, Jaffna HQI, Chief Inspector Saman Cigera, said that their officers did not delay, but it was the normal time required to record statements from five persons.
"We had to record statements from Dimuthu Atygalle and four other members of their organization," he said adding it was not a delay and they had to accommodate complaints lodged in three record books, too.
CI Cigera said that they had already informed the Department of Registration of Motor Vehicles of the number of the motor cycle and were awaiting the report.
Further investigations would commence when they received the identity of the owner of the motor cycle, he said.
by Dasun Edirisinghe
IS