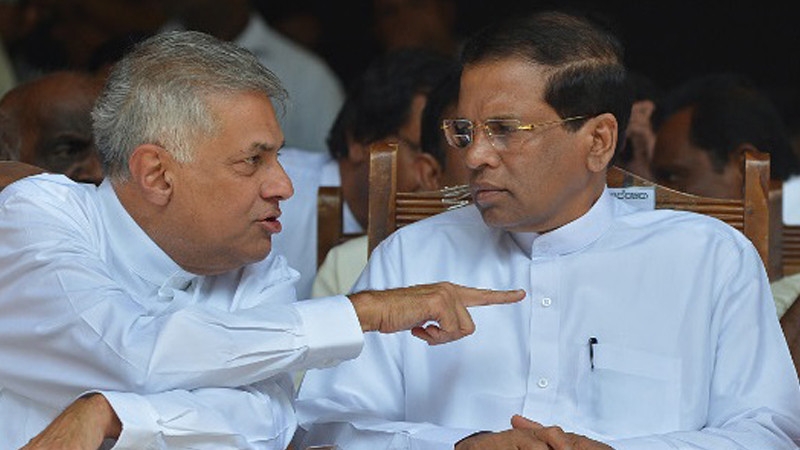 Much was expected from the Maithri- Ranil administration. The 100 day government other than the passing a watered down 19th Amendment there was nothing much to crow about.
All the Hype about the Rajapakse's Robbing left right and center ended up with nothing. The so-called rogues of the previous government were appointed back to the cabinet. The President to add to all this gave nominations to Mahinda Rajapakse.
Ranil did one better than Maithri by covering up one of the biggest Financial frauds in the history of Sri Lanka, now the same man is accused of even introducing the Rajapakses to a Dubai bank that he worked before he returned to Sri Lanka.
None of the so call high profile financial frauds of the previous administration has so far got exposed. Harsha De Silva who was screaming that the EPF was robbed has been pushed to do economic diplomacy.
Because the government does not want to hang the Governor's son in law, as a result Nivard Cabral and his cronies are getting away scot-free. The Colombo Stock Exchange is losing ground daily due to a lack of confidence.
Maithri like his predecessor began his presidency on a high note by appointing his Brother as the Chairman of SLT, he is paid a hefty salary and he is accused of doing deals with Wegapitiya, his son in law works in the defense ministry and son roams the world with him and Maithri's classmates from Polunaruwa, one is Defense Secretary and many others are holding other jobs in the administration.
On the other hand, Ranil Wickramasinghe has admirably left his family out, but has done better than the President, he has brought back all the old cronies of the past and his friends and contemporaries into the administration and either given them top jobs or advising him how to run the country.
Charitha Ratwatte his key advisor was directly responsible for the downfall of the UNP (SB Dissanyake has said this many times) runs the government, now he has put his brother in as CEO of Sri Lankan Airlines and has put his incompetent cronies to run the ministries).
Mr. Paskaralingam who was found guilty for abuse of power and corruption by a Presidential Commission in the 90s is deciding on tenders as an Advisor, he is having a great run like in the past.
Malik Samarawickrama who was accused of doing business with the Rajapakse's as recent as January 2015 and could not even negotiate effectively with the Chandrika Government save the UNP in 2004 has been made a Cabinet Minister and given the big responsibility of attracting FDI and Trade.
Ranil has appointed his buddy and former defense secretary's hand picked agent Sagala Rathnayake as a Cabinet Minister and Director General of the Secretariat. His brother is ANCL Director and NDB Director.
Ranil's typist secretary Sandra Perera has emerged as a key confidant for the Prime Minister and his wife.
His other friends running the government are Thilak Marapana who appeared for Avangaurd Chairman and milked the Chairman of Avangaurd is Police Minister, Minister Swaminathan who was accused of mismanagement as a treasure of a well-known temple and NSB was put back and made a cabinet minister.
Ajith Dias (businessman with no experience in Airlines made Chairman Sri Lankan and Mihin Airlines)
Ananda Athukorala who was sent on early retirement from Grindlays for incompetence is DFCC Deputy Chairman, Dinesh Weerakkody former Commercial Bank Chairman supposedly Maithri's choice for Central Bank Governor is a Human Resource Advisor. Chairman in Sri Lankan Airlines Ajith Dias made Lalith Vithana as cheif financial officer of Sri Lankan Airlines. Now both can run Sri Lankan Airlines like Brandix garment factory.
Ajitha de Costa Envirionment Chief, has so far messed up the Port City, the biggest FDI into Sri Lanka, well known Dealmaker Neranjan Deva a close associate of the Rajapaksas' as Foreign Affairs Advisor to Sri Lankan government.
Paddy Vithana a cook by training was given the all-important Tourist Board Chairman, Dammika Dissanayake who knows nothing about diplomacy as Ambassador to Japan.
Deepal Wickramsinghe another friend, his wife Dilrukshi Wickramasinghe as Director General of the Bribery Commission, can u expect independence?
Arjuna Mahendran who mismanaged the BOI, as Central Bank Governor, he has certainly become a major source of embarrassment for the government.
Chanaka de Silva, Rakitha Jayawardana, Lawyer Haridasa Sri Lankan Directors, Crysantha Perera who has no qualifications other than O/L as a member of the Monetary Board of Sri Lanka.
This list in the next few days is bound to expand and Ranil and Maithri will surely and steadily turn the promised Yahapalanaya to Yalupalanaya and may do better than the Rajapkses by the end of their two years and political analysts say this government will certainly have a crash landing after the Provincial elections if the two leaders don't take control of the situation and provide leadership with out gallivanting all over the world shaking hands with foreign dignitaries for the cameras.
– Movement for Better Governance