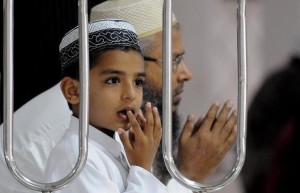 Friday Forum, a Sri Lankan citizen's group has asked the administration to take steps to stop rising fascist-nationalist actions directed at the island's Muslim community.
"The Friday Forum urges you to act immediately and decisively to counter the increasingly venomous and strident anti-Muslim hate campaign launched by a few extremist groups claiming to represent the majority Sinhala community," the Friday Forum, said in a letter addressed to President Mahinda Rajapaksa.

"As you are aware, this campaign has intensified over the past several months.
"The country has witnessed attacks against mosques, and the circulation, on social media, public posters and web-sites, of obscene and vituperative messages that are offensive to religious beliefs.
"It has witnessed anti-Muslim public rallies and processions, including a call to boycott Muslim business establishments."
An extreme nationalist organization called 'Bodu Bala Sena', had been at the forefront of anti-Muslim activity in the island.
The call to boycott Muslim businesses is similar to the Judenboycott of Germany. Sri Lanka's Tamil minority has previously been the target of nationalists, which triggered a 30-year war ending in 2009.
In 1983, a Kristallnacht style pogrom led to the escalation of the ethnic conflict.
"The possibility of violence against a particular community, and the dangers of ethnic cleansing are very real," the Friday Forum wrote said.
"The horrors of the 1983 ethnic riots constantly remind us how human life and personal security mean nothing, when there is incitement to communal violence and hatred.
"Hate campaigns inevitably result in a deep sense of fear and vulnerability among members of the targeted community, giving rise to a fear psychosis.
"Such a situation not only deeply harms that community, but also imbues a whole society with suspicion and propensity to communal violence."
The Friday Forum welcomed comments made by President Mahinda Rajapaksa at Trincomalee in February calling for communal harmony, but said not enough was being done.
A hate campaign was rapidly being set against Muslims through the media.
"In any situation in which there are efforts to incite communal tensions, the primary responsibility of removing such threats and reassuring the community under attack is with the government," the Friday Forum said.
"The people elect the President and other representatives in the expectation that they will ensure an environment in which all citizens can live assured of their human rights including equality, personal security, dignity and religious freedom.
"Failure of a government to provide this is a serious breach of its responsibilities and has, in the past, had tragic consequences for our country and our people.
"We urgently call on you as elected Head of State to address the nation denouncing the current anti-Muslim campaign and its sponsors and detailing the measures the government will take to deal with the hate campaign against Muslims.
"Only such steadfast and resolute action, rising above narrow identity politics, can safeguard the peace and further an environment of communal harmony and security in our country."
LBO