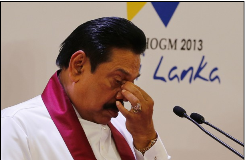 Rajapaksha at CHOGM ( AP photo)
Associated Press
Sri Lanka's president lashed out at criticisms of his nation's human rights record, saying Thursday that the government deals with any complaints of abuses committed during or after its bloody 27-year civil war. Pro-government protesters, meanwhile, attacked the headquarters of the main opposition party.
President Mahinda Rajapaksa was speaking on the sidelines of a summit for the 53 nations in the Commonwealth of Britain and its former territories. The group has been accused of making a mockery of its core values of democracy and human rights by holding this year's summit in the seaside capital of Colombo.

"We are open. We have nothing to hide," Rajapaska said, despite so far refusing demands by world governments and the United Nations for an independent investigation into alleged wartime atrocities committed by both rebels and soldiers, as well as reports of media harassment and of thousands of people who went missing during and after the final months of the war in 2009.
"If anyone who wants to complain about human rights violations in Sri Lanka, whether it's torture, whether it is rape, we have a system," Rajapaksa told a news conference. "If there is any violations, we will take actions against anybody, anybody. I am ready to do that."
A court on Thursday banned protests in Colombo until the end of the Commonwealth summit, police spokesman Ajith Rohana said, explaining that the move was intended to prevent traffic jams.
But hundreds of pro-government protesters attacked the headquarters of the main opposition United National Party. Police stopped the protesters from throwing stones at the building, but did not disperse the crowd.
Inside the building, dozens of ethnic Tamil parents had gathered quietly with photographs of missing children they believe were abducted by army soldiers after the war ended in 2009.
Siva Madi, clutching a portrait of her 22-year-old son, said he vanished from a bus stop on his way to get a driver's license. "When I inquired, the army denied arresting him. I informed the police, the human rights commission, the Red Cross and took part in many protests, but got no result." She said several hundred other Tamils wanted to come from the north for the protest, but were blocked by police.
Since the war ended with Sri Lanka's Sinhalese-dominated armed forces smashing a sustained Tamil rebellion for an independent homeland, the government has denied that its side committed any rights abuses. It accuses journalists of fabricating allegations of atrocities, and rejects criticism of nepotism, even though five ministries are controlled by Rajapaksa and his three brothers. The parliament is also dominated by Rajapaksa's coalition.
Rajapaksa lauded the war victory, saying "people were getting killed for 30 years. At least after 2009 we have stopped it."
Yet postwar reconciliation remains a far-off goal. Troops are still heavily deployed throughout the northern Tamil heartland in the teardrop-shaped island off southwest India, and local journalists still regularly report harassment. Provincial elections in September were seen as a step toward granting Tamils more autonomy, but also drew criticism for falling far below what is needed for reconciliation.
The leaders of Canada, India and Mauritius have stayed away from the summit. Other leaders, including British Prime Minister David Cameron, have been pressured by rights groups to justify their attendance by promising to call Sri Lanka to task.
Commonwealth Secretary-General Kamalesh Sharma defended having the summit in Colombo by saying it allows Sri Lanka to meet with leaders who have dealt with issues of human rights, rule of law and judicial independence in their countries. He said "it shows the Commonwealth in action."
But the friction over Sri Lanka's rights record was showing Thursday among summit participants, with civic leaders angry with a senior British official for using his speech at this week's People's Forum to press Sri Lanka to investigate people's disappearances, guarantee freedom of expression and "stamp out intimidation of journalists and human rights defenders."
Some the 350 or so international civil society members said Hugo Swire, a minister of state for the Foreign Office, had violated a Commonwealth understanding and agreement to work on global solutions rather than attack individual member countries.
"Britishers are the people who taught us manners, fair play, democracy," said L.P. Chandradasa, chairman of this year's People's Forum, adding that Swire's comments may have jeopardized tentative progress that had been made during the summit between civic leaders and Sri Lanka's government. "We don't deny that the relationship between the civil society and Sri Lankan government is strained. But now it is worse. The government is saying "how did this happen? It means you are not genuine, you are trying to attack us."