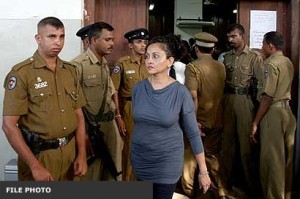 Happier days – Frederica Jansz with police protection provided by the regime
Colombo District Judge, Amal Ranaraja, ordered former Editor of the Sunday Leader, Frederica Jansz to pay Rs 1 million to President's Counsel, Nalin Ladduwahetty, for defaming him in four articles published by the Sunday Leader.

The Court observed that Ladduwahetty is a well-respected lawyer and the plaintiff proved the case against the defendant.The Court ordered she pay the cost of the case to the plaintiff and the interest of the award from the date of the judgment delivered.
It was informed to Court the defendant had failed to make an apology to the plaintiff after receiving the letter of demand sent to her. During the course of the trial, it was proved the defendant defamed the plaintiff in four articles published by the defendant, stated the judgment.
The Court ordered to call the case on 2 June to ascertain whether the defendant had complied with the order. President's Counsel, Romesh de Silva, appeared for the plaintiff with attorney, Sugath Caldera, instructed by Paul Ratnayaka Law Firm.
CT