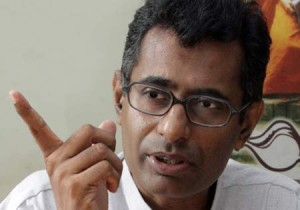 Patali Champika Ranawaka ( Minister Power and Energy)
One of the reasons for me to be in Ampara recently was to review the progress of the project, '100 percent electrification of the Ampara district', launched concurrently with the activities related to the forthcoming 'Dayata Kirula' program. The other was to explore the hidden Buddhist and prehistoric heritage in Digamadulla.
Having ceremoniously opened a rural electrification project at Bandaraduwa where, a few years ago, 31 innocent Sinhalese had been hacked to death by the LTTE terrorists, I proceeded to Thirukkovil, along with Rear Admiral Sarath Weerasekera, M.P., Ampara district, to ascertain the extent to which an ancient dagaba had been reported destroyed.
To reach the location we had to motor a few kilometers along a roadway that ran across a vast extent of paddy fields and then walk a few hundred meters through a recently ploughed plot of land. There, at sunset, what we saw filed our eyes with tears. It was a bulldozed dagaba. To see it in our own motherland, an island which had thrice been offered to Buddha, was mere heartbreaking.
The Sinhala media had reported it extensively as an act of treasure hunting while some Tamil media was inclined to portray it as an innocent exercise of farmers trying to level some mounds of earth to prepare the land for paddy cultivation.
Treasure hunters
Being able to have a full view of the site, it was not difficult for us to conclude that it was a medium scaled dagaba built out of fired bricks. There was a trench somewhat wider than the width of an average bulldozer blade, cut across the center of the dagaba. It was clear evidence of culprits having reached the center of the dagaba, where sacred treasures are supposed to be deposited in ancient dagabas. It was indeed not an innocent act of a farmer but a job of an organized group of treasure hunters. This fact had been confirmed subsequently, on reliable evidence gathered.
My second observation was that there were vast areas cleared of scrub forests. These areas had been subjected to mechanize bulldozing to excavate trenches, build earth bunds and then to random sawing of paddy seeds. It was common knowledge that during the height of terrorism, identical activities were been carried out in government forestlands of the northern and eastern parts of the country, with impunity. Plots of paddy fields with huge earth bunds and trenches filled with water, I saw there, reminded me of barriers and trenches built by the LTTE, as barriers against our armed forces. The LTTE military commanders Theepan and Balraj had used such barriers as effective devices against the Indian army, during its battles in Vanni and other locations, especially where it had been outnumbered, or out equipped in military hardware.
According to my third observation, there is one personal and two political objectives behind those activities being carried out in the area. To claim ownership of land so encroached, is the personal objective and one of the political objectives is to colonize as much area as possible by non Sinhalese.
Historical evidences
Dagabas, stupas, statues and thousands of many other ruined objects or items remaining in these locations are eloquent evidence to prove the fact that they were habitats of people endowed with a rich Buddhist culture in the past. The second political objective is to destroy those historical evidences, enabling politicians with vested interests to claim the eastern and the northern provinces of the country as historical homelands of Tamils, which is not tenable from any perspective.
There had been four waves of colonization of the eastern province. The first was a result of the Rajasinghe-Flack agreement (1776), through which Dutch Colonials had facilitated Indians brought down to Jaffna for its tobacco cultivation, to settle down in the eastern province. The next wave was when (from 1855) the English Colonials settled down estate Tamils from upcountry in the East, when a destructive virus infection had attacked the coffee plantation in the hills. It is interesting to note that on both these occasions, colonization had been confined to coastal areas and to small townships like Batticaloa and Trincomalee. S.J.V.Chelvanayagam of Tamil State Party spearheaded the third wave and it was effectively executed by the then Jaffna M.P. Vanniyasingam. He was instrumental in getting down Northern Tamils in thousands and made them to settle down, not only in coastal areas and townships but also in encroached deep down village areas. Thereafter, Devanayagam (M.P) settled down thousands of estate Tamils who were destined to be repatriated to India under Shrima-Shastri pact in Vanni and in Mahawelli lands of the Eastern province. It is considered to be the fourth wave of colonization of east.
Encroachment
These areas which were under the reigns of Tamil terrorists for a period of over 30 years are now free. Development work such as construction of roads, bridges, power supply and irrigation projects and addition of many other infrastructure facilities in these areas are rapidly changing their demographic and geographic landscapes. In this backdrop, organized encroachment of land and colonization activities being carried out there is a serious matter of concern to policy makers in particular, and to law abiding people in general.
Therefore, first of all, to allay myriads fears of the majority, priority should be given to resettlement of chased away Sinhalese and Muslims in their original abodes in the Eastern province. Secondly, a scientific survey should be carried out to ascertain environment and archeological impact assessment in these areas. Thereafter, zones could be identified for establishment of new villages and townships. Unless early steps are taken to address these problems now looming large in the Eastern province, the possibilities of emerging a new conflict to destroy hard earned peace cannot be ruled out.
Courtesy: the Nation