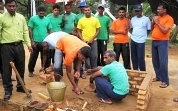 Formerfighters receive training
Three years after Sri Lanka's 26-year civil war ended, thousands of former fighters of the Liberation Tigers of Tamil Eelam (LTTE) face an uphill battle in re-establishing themselves, despite government efforts to rehabilitate them.

"I'm struggling a lot economically. I don't regret the loss of the LTTE, but I wish there was a better support system for us," said 34-year-old Raja from Batticaloa District in eastern Sri Lanka. He was in the separatist movement from 2005 to 2008 and recently completed the government programme. "I suffered a lot of during those three years. All I want now is a brighter future," he told IRIN.
After the war, former fighters were required to complete a six-stage rehabilitation programme that could last up to two years if they wished to receive general amnesty, otherwise they would face terrorism charges.
More than 10,000 former LTTE fighters, many of whom were forcibly conscripted by the rebels, have been rehabilitated since the war ended on 18 May 2009, with only 300 still in detention, according to Sri Lankan government figures.
Under the programme, the former LTTE cadres received vocational and life skills training, as well as psychosocial support, while a mentorship programme offered former combatants talks on conflict resolution and emotional resilience.
"We used artists, [educators] and business entrepreneurs who are keen to share their story of success from different fields to work with former cadres," said Mal Hettiarachchi, a clinical psychologist and volunteer consultant to the Ministry of Rehabilitation.
Maran*, 36, from Kilinochchi District, a former LTTE cadre who joined the movement when he was 21 years old and is now a musician in the northern town of Vavuniya, said the programme had "changed" his life. "I learned about the other side of things. The hatred is long gone from my mind. What really helped me were different interactions with people outside my ethnicity during the programme."
Echoing this optimism, Malathi*, 24, also from Kilinochchi, said after completing the rehabilitation programme she now hoped to support national rebuilding. "Of course, I am never going to think of taking up arms again." She joined the LTTE after leaving school when she was 17 years old to avenge the death of her elder brother, also a Tamil Tiger.
But others are less sure. "Transforming minds and healing them is an important part of the equation to heal 30-year-old scars," Victor Karunairajan, a Tamil community leader from the northern district of Jaffna, told IRIN, but "all steps" need to be taken to address the grievances of those affected by the war.
Some community activists say the government's rehabilitation programme is not enough to achieve lasting results in these men and women, with many citing the need for livelihood support as critical for those who have completed the programme and are now back in their places of origin.
"There needs to be more economic opportunities for… [people] returning after rehabilitation," said Sumathi*, 24, who feels that economic hardship is undermining her reintegration. After finishing the programme she returned to Vavuniya, where she is employed as a seasonal farm worker.
However, there are challenges besides the lack of jobs that could undermine the long-term reintegration of former LTTE fighters and are beyond the scope of the government's rehabilitation efforts.
The conditions that gave rise to the separatist movement in the first place, including feelings of social inequality and oppression experienced by Sri Lanka's minority Tamil population, prevail to this day and need to be addressed, say local experts.
"The failure of reconciliation is seen in the continued militarization of the north and east, to which the rehabilitated LTTE cadre will be returning. In addition to excessive military control over civilian life, there is also the problem of the military doing civilian jobs, such as engaging in construction and restaurant activities," said Jehan Perera, director of the National Peace Council of Sri Lanka.
"The returning LTTE cadres will be going back into a militarized environment, which is not conducive to a new vision of life and its opportunities."
The absence of a political settlement that has the support of the major Tamil political parties also creates an atmosphere of resentment and a sense of deprivation in the larger Tamil community regarding the denial of their rights, which is also not conducive to reconciliation, Perera noted.
He pointed out that "Demilitarization and a political settlement are necessary for reintegration of the LTTE cadre into normal life to be successful in the longer term."
*Not their real names
contributor/ds/he
– /IRIN