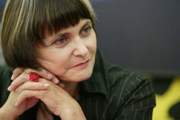 Calmy-Rey
The International Crisis Group has announced the names of its 10 new members to the Board of Trustees. They were elected at a board meeting held in Vancouver on 21 April 2012, according to an ICG release. Among them are Micheline Calmy-Rey Former President of the Swiss Confederation and
Foreign Affairs Minister of Switzerland and Wu Jianmin Executive Vice Chairman of China Institute for Innovation and Development Strategy, Member of the Foreign Policy Advisory Committee of the Chinese Foreign Ministry, Former Ambassador of China to the United Nations (Geneva) and to France. Other members elected were:
Wang Jisi Dean, School of International Studies, Director, Center for International and Strategic Studies at Peking University, Member of the Foreign Policy Advisory Committee of the Chinese Foreign Ministry; Nabil Fahmy Former Ambassador of Egypt to the U.S. and Japan. Founding Dean, School of Public Affairs, American University in Cairo; Lykke Friis Former Climate & Energy Minister and Minister of Gender Equality of Denmark. Former Prorector at the University of Copenhagen. Member of the Danish Parliament; Wadah Khanfar Co-Founder, Al Sharq Forum. Former Director General, Al Jazeera Network; Laurence Parisot Chair, French Business Confederation MEDEF. Vice President of the French Institute of Public Opinion; Karim Raslan Founder, Managing Director and Chief Executive Officer of KRA Group; Liv Monica Stubholt Former Foreign Secretary of Norway. Senior Vice President for Strategy and Communication, Kvaerner ASA; Lionel Zinsou CEO, PAI Partners
The newly constituted 45-member Board includes 14 members from the Americas, 16 from Europe, 8 from Africa and the Middle East, and 7 from the Asia/Pacific region, including two new distinguished representatives from China, the ICG press release said.
Crisis Group President Louise Arbour, Former Human Rights High Commissioner also quoted in the press release: "I am delighted that many of our long standing Board members will be with us for another two years, and that we are now joined by a very distinguished group of new members who will bring a wide range of experience and world views to the organisation".
LNW