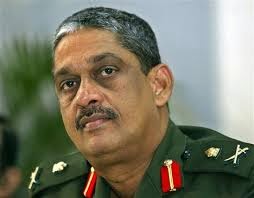 Geneva resolution justified by H'tota attack: Sarath Fonseka
The attack on United National Party (UNP) MPs at the Mahagampura Port is a blatant violation of human rights by this Government and is a clear justification of the Geneva resolution on Sri Lanka, Democratic Party Leader Sarath Fonseka said today. He told a news conference that he was prepared to participate at any international probe being carried out by the United Nations Human Rights Council (UNHRC) on allegations of human rights violations in Sri Lanka.
He recalled that his party supporters were also assaulted during the recently held elections to provincial council elections in Hambantota by the same people who attacked the UNP Members.
Mr. Fonseka said he wondered why only his party supporters were attacked and not those who campaigned for UNP.
"Why is the government treating two factions in the UNP differently," he asked. (Yohan Perera and Sanath Desmond)
Hambantota incident orchestrated by father-son duo – Fonseka
Former Army Commander and Leader of the Democratic Party (DP), Sarath Fonseka, today said that they were not surprised by the recent attack on UNP Parliamentarians in Hambantota as his party had faced similar situations while campaigning for provincial polls in the "uncleared area".
The attack on a group of UNP MPs, who were on an observation tour of the development projects in Hambantota, by an angry mob, kicked up a huge political storm while investigations into the incident are still ongoing.
We had to face a series of similar disgraceful incidents when we visited that "uncleared area" prior to the Provincial Council election, Fonseka told reporters in Colombo today.
He stated that the Democratic Party was not allowed to hold all 8 of the meeting it had organized in the four electorates after handing in nominations and that they had deal with thugs and numerous attacks.
"We too experienced instances where police officers helplessly looked the other way while armed men assaulted our supporters," he said.
Fonseka reiterated that Hambantota is an ungoverned and "uncleared area," where armed thugs roam the street while police officers look up with their hands in the pocket.
He accused the government and police department of failing to take any legal action, apart from making dishonest statements, regarding the incident so far.
The Hambantota incident clearly proves that these "political thugs" were controlled by "the country's ruler and his eldest son" and that the attack was carried out according to their desires.
"This is not difficult for a citizen with an ounce of a brain to figure out," Fonseka said.