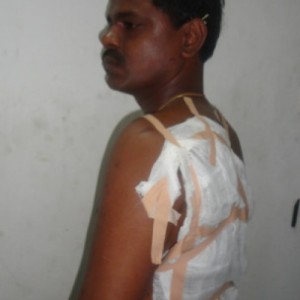 Thiyagaraja Thuwarakeswaran after acid attack
Former Hindu Cultural Minister Thiyagaraja Maheswaran's brother and leading businessman Thiyagaraja Thuwarakeswaran aged 41, faced an acid attack on Saturday at Nallur.
He was severely wounded in the back and neck area was admitted to Jaffna Teaching hospital. However he had informed, due to dearth of safety at the Jaffna hospital, he got admitted to a hospital in Colombo.
This incident has occurred yesterday at 9.00 a.m in front of Jaffna Nallur Kandasamy temple.

Thuwarakeswaran after returning from Nallur Kandasamy temple fulfilling his religious obligations, while he was ready to get into his vehicle, acid was thrown over him.
He immediately had removed his shirt and had rolled himself in the stagnated rain water and after the burn sensation has got reduced he was immediately admitted to the Jaffna Teaching hospital.

"Concerning this I have made a complaint to the Jaffna police station. I do not have security to get treatment at the Jaffna teaching hospital and I got admitted to a hospital in Colombo."
Due to acid attack his back area is severely wounded. Northern provincial Governor G.A.Chandrasiri's personal secretary and former military officer Jayakody had thrown acid over him was informed by him to "Udayan" the print media. Jayakody after throwing acid immediately left the area in a motorbike.
Along with him, four persons accompanied him are suspected that they are from the military was further mentioned by Thuwarakeswaran.
He said, two days back when he went to Karainagar Sivan Temple, Jayakody was following him.

Regarding this he had made a complaint to the Jaffna police station.
Jaffna police Officer in Charge Saman Chickara was contacted concerning this incident, and he said, regarding the acid assault a complaint had been made. Thuwarakeswaran in his complaint had said that he suspects that Governor's Personal Assistant Jayakody had thrown acid towards him.
Meanwhile Jayakody is behaving like this due to a disagreement. Previously too he was antagonized and I informed to Jaffna District Commanding Chief. I made a complaint to Colombo military head office. Currently a disciplinary action against Jayakody is processing. Hence he threw acid towards me was said by Thuwarakeswaran
OU