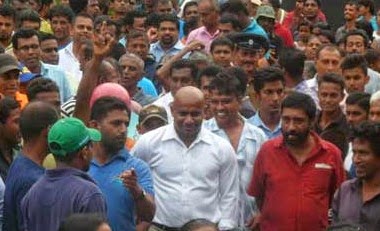 Jayasuriya leading the unruly crowd
A group of thugs of politicians who stormed into the University of Ruhuna at around 2.00 pm on June 02 have allegedly attacked a group of students and threatened lecturers. A group of nearly 300 of parliamentarian Sanath Jayasuriya, Provincial Council Minister D.V Upul and Aruna Gunaratne have thus been involved in the attack, reports say. As the thugs chased the students they have hidden in safe locations. Some thugs, who claimed that the students did not allow the Deyata Kirula National Exhibition to be held in the university premises, have possessed clubs and battens.
The situation was brought to normalcy with the mediation of Matara police and the protesters have stated that due to the objection of the students their village lost an opportunity of accommodating a development project.
However, Deyata Kirula Exhibition Committee Chairman Minister Ranjith Siyambalapitiya recently stated that Deyata Kirula Exhibition was removed from the university premises due to lack of facilities.