Image: Protest in front of Maradana police station calling for the release of journalist Malika Abeykoon ( LankaViews)
On 2 April 2021 Sri Lanka  Health Minister sacked Consultant Paediatrician Dr. LakKumar Fernando, a Board Member of the National Medicines Regulatory Authority (NMRA) for expressing his opinion on the Chinese Sinopharm vaccine. He was the nominee of the Sri Lanka College of Paediatricians to the  NMRA.
Dr. Fernando has expressed his view that Sri Lanka should not approve for emergency-use listing any vaccine without proper data, as then the guinea pigs would be the people of this country. "We as gatekeepers must ensure the protection of the people for whom we are doing this as a service; what the NMRA has been requesting over and again is for Phase 3 efficacy and safety data, as we need to follow the right protocols,"  Dr. Fernando had told the Sunday Times adding that this was also what the World Health Organisation (WHO) was asking for.
On 07 April 2021 Malika Abeykoon, a freelance journalist was abducted by the police during a protest by health workers. Police gave no reason for this daylight abduction.  He was being held at the Maradana Police Station and has been assaulted. He has not been given medical treatment until the 8th April.
Although a trade union activist and a lawyer went to the Maradana police station last night, the police did not allow Malika to meet them. Similarly, the OIC of the Maradana Police has refused to allow a lawyer representing the rights of a person in police custody to do so, reported Lanka Views.
He was produced in the court remanded till 12th April.
Photojournalist Malika goes to cover a protest by healthcare workers, gets arrested and is allegedly beaten in police custody. The police produce him and a JMO report before the judge when he's apparently not even been shown to a JMO. He's now in judicial remand till 12th April. https://t.co/KD1kpFWnKz

— ThyagiRuwanpathirana (@ThyagiR) April 9, 2021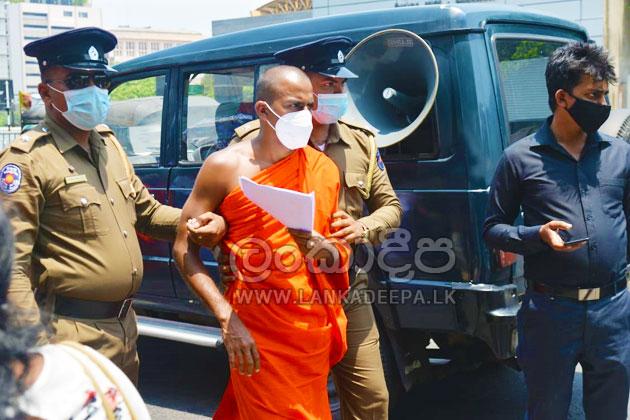 On 08 Thursday 2021, Jamburewela Chandrarathne Thera and another individual were arrested for allegedly causing damage to a Police jeep during a protest march near the Fort Railway Station.
The protest march organized by the association of Wives of Disabled Soldiers headed towards the Presidential Secretariat after their protest demonstration in front of the Fort Railway Station reported Daily Mirror.
Jamburewela Chandrarathne Thera is the leader of the Sinhala nationalist organisation " Sinhalaye Api"