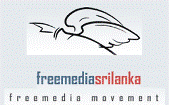 Media release
The Free Media Movement expresses its serious concern over the decision by the management of the Ceylon Newspapers (Pvt) Ltd. to termination of the service of its editorial director Mr. Lalith Alahakooon and Cartoonist Mr. Wasantha Siriwardana. Ceylon Newspapers (Pvt) Ltd publish Ceylon Today and Mawbima dailies and weeklies.

According to the statement Mr. Alahakoon has forwarded to the FMM so far no charge sheet has been given to him and termination of his service has been conveyed to Mr. Alahakoon only by verbally. It seems that he has not been given any letter that his services have been terminated. Ceylon Newspapers (Pvt) Ltd has not taken any action to justify the termination of the service of cartoonist Mr. Siriwardana too.
The FMM as a organization which stands for Freedom of expression rights and well being of the media industry in Sri Lanka expresses its deep disappointment over this series of events.
At present media institutions in Sri Lanka are increasingly falling in to government grip. Media institutions are forced to practice great amount of self censorship. In such a situation this kind of non democratic incidents does not help at all to furtherance of the the media freedom in Sri Lanka.
In this context the FMM appeal especially to the Sri Lanka editors Guild, News Papers ( owners) Society and to all media freedom organizations to initiate a discussion on the concept of editorial freedom and rights and duties of the newspaper owners in order to arrive at a common ground that all stake holders can share.