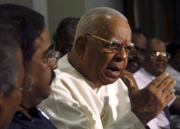 The five Tamil Political Parties ITAK, TULF, TELO, EPRLF and PLOTE have agreed, as a matter of policy, to function under the Tamil National Alliance (TNA) umbrella which is to be registered shortly with the Elections Secretariat, Leader of PLOTE Dharmalingam Siddharthan said yesterday.

Hitherto, they had contested under Illankai Tamil Arasu Katchi which was the breakaway branch of the former Federal Party.
Former Parliamentarian Siddharthan said that they had discussed the delay on the part of the government to implement the LLRC recommendations, the resettlement of the IDPs, the prevailing political situation in the country and the possibilities of the government announcing early provincial council elections in the Eastern Province.
He said that the representatives of the five Tamil political parties, presided over by TNA leader MP R. Sampanthan, met at the TNA headquarters at Retreat Road in Bambalapitiya and deliberated at length before arriving at the decision to form the Alliance last Friday
"The five Tamil political parties had united and been together under the TNA banner in the past and had contested elections successfully, but have had their differences which surface once in a way as in the case of any other Alliance," he said.
Those who were present were TULF leader V. Anandasangari, ITAK MP M. Saravanabavan, EPRLF Secretary General and MP Suresh Premachandran, EPRLF MP Shivashakthi Anathan, TELO MP Nogarajalingam alias Henry, and PLOTE leader Dharmalingam Siddharthan.
It was agreed that the General Secretaries of the respective Tamil Political Parties were to meet regularly to work out a common working programme for members of the Alliance.
By Franklin R. Satyapalan
IS