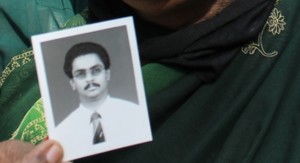 Unending wait for relatives of the disappeared
After the final war occurred between the Liberation tigers and government troops in Sri Lanka, those surrendered to the military and after getting lost, five persons concerning this have filed habeas corpus petition at the Vavuniya high court.

Court ordered the 58th battalion chief officer located in Mullaitheevu and Military Commander to produce in courts on the forthcoming May 20th to give their evidence in regard to this issue.
The spouses and mothers of the missing persons have filed cases at the Vavuniya high court.
This case was taken for hearing on last Wednesday at the Vavuniya high court in the presence of Judge Chandramani Viswalingam.
On behalf of defendant, Senior Attorney K.S.Ratnawel submitted descriptions concerning the missing persons.
He notified, at the final phase of military war in Sri lanka, the people from the Vanni region from one place to another place was chased and finally they were forced to move from the Mullivaaigal area to the military controlled locality.
At that time through amplifiers announcements were made, those with the liberation tiger movement to surrender to the military, in view of the end of war, this was notified to the liberation tigers who had discarded their weapons.
Government in its announcement assured that those surrendered will be protected and they would be released by general amnesty.
These assurances were catered through officials by the government, was believed by hundreds and surrendered.
An office was opened for such persons got surrendered and uniformed military men registered the surrendered person's name and other details.
Due to lack of knowledge in the language, Rev.Father Francies Joseph accompanied with two Catholic Priests, who were conversant in Sinhala and English were the mediators between the military and those surrendered.
Such surrendered persons were transported in buses belonging to the government. In the presence of their spouses, children, mothers and family members on last year 2009 May month 18th, the surrendering incident occurred. After this incident, the relations did not see their surrendered beloveds.
What happened to those surrendered? Where are they or where are they detained? The relatives who are without knowing any details are facing agony.
A mother had filed habeas corpus petition had notified that her daughter, son-in-law and their children aged 6 years and 4 years, are missing.
Government caught and imprisoned without differences in age or whether adult or child. Now the state of them is unknown. In this manner the government is leading the people, hence through government mechanism by carrying out investigation, should reveal legally, what happened to the missing persons, and the government as the responsibility.
If anything happens to them, the government should take the responsibility. Sufficient actin should be taken to this issue and the missing persons should be brought in front of courts, which I request to order the relevant officers was the request made by the Attorney Ratnawel.
Subsequently an order was given by the courts to 58th battalion chief officer from Mullaitheevu and Military Commander to produce in courts on the forthcoming May 20th and to give their evidence relevant to this issue.
OU