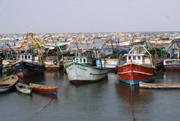 file photo: TN fisherman on stike
The State government on Friday alleged that fishermen were being humiliated, assaulted and killed by Sri Lankan Navy not only when they crossed the International Maritime Boundary Line (IMBL) but also when they were fishing within the Indian territorial waters.
Advocate General A. Navaneethakrishnan made the submission before a Division Bench, comprising Justice P.P.S. Janarthana Raja and Justice M. Vijayaraghavan, during the hearing of a batch of public interest litigation petitions filed last year seeking protection to the fishermen.

This was a new development in the case as the State government in a counter affidavit filed in February had conceded cross border fishing by the fishermen and contended that the legalities or sovereignty of nations "do not bind the poor and innocent fishermen just like fish which have no trans-boundaries."
However, on Friday, the Advocate General submitted a list of documents, including First Information Reports registered by the local police in Rameswaram, Mandapam, Nagapattinam, Pudukottai, and claimed that many incidents of alleged attacks on the fishermen had taken place in the Indian waters.
According to a report submitted by the Director of Fisheries to the Fisheries Secretary on March 22, a number of complaints had been lodged by the Tamil fishermen even after an interim order passed by the court in October directing the Centre to provide additional enforcements along the IMBL.
On the strength of the report, the AG requested the court not to close the contempt of court applications filed by one of the petitioners against Union Cabinet Secretary, National Security Advisor, Defence Secretary, External Affairs Secretary and Deputy Director General of Indian Coast Guard.
However, refuting the claim made by the State government, Additional Solicitor General M. Ravindran, appearing for the Centre, contended that there was no chance of the Sri Lankan Navy having entered the Indian waters as such movement by the warships would amount to waging a war.
He claimed that attacks, if any, on the Indian fishermen could have taken place only in the Sri Lankan waters as it was none other than the Tamil speaking fishermen of Sri Lanka who were against the Indian fishermen exploiting the marine wealth within the island nation's territory.
Marine wealth
"The marine wealth in the Indian waters had been overexploited over the years, whereas it was not the case with the Sri Lankan waters as those fishermen could not go for fishing for years together due to the civil war during the days of the LTTE.
"Only now, the Sri Lankan fishermen are able to fish freely in their waters and so there is a clash between them and the Indian fishermen who enter their waters and use banned fishing methods and equipments such as bottom trawling and mono filament nets to catch plenty of fish," he said.
Hearing adjourned
After hearing them as well as W. Peter Ramesh Kumar, counsel for one of the petitioners, the judges adjourned the hearing to September 24 after stating that the issue required a deep analysis in view of contradictory claims made by the Centre and the State
The Hindu