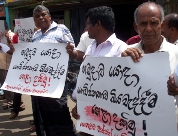 Farmer associations in Kanthale carried out an agitation near Kantale tank today (5th) morning complaining that the Army is interfering in affairs of farmer associations and against the attempt to destroy the Kanthale tank.
The farmers emphasize that a sea-plan project has been proposed for Kanthale tank, a building at the catchment area of the tank is being renovated to be used as a restaurant and these activities are a strain on their cultivations.
They also charge that the large rock in the tank is to be blasted and removed as it is a hindrance for the sea- plane project.
According to farmers various figures of animals, graffiti and designs have been engraved on the rock and treasure that could be used when the tank is confronted with a major disaster is enshrined in it. Blasting the rock would destroy the treasure and would harm the tank say farmers.
The farmers have expressed their protest against the Army's attempt to stop the awareness programmes carried out by farmer associations to protect the tank and also for calling farmers to Kanthale Divisional Secretariat to pressurize farmers to stop their agitations.
Former Parliamentarian of the JVP and the National Organizer of All Ceylon Farmers' Federation Namal Karunaratne who was present addressing the farmers said, "King Agbo built Kanthale Tank not for sea-plane landing. Our ancestors shed blood and sweat to build this tank. This tank belongs to the farmers of this land. No one has the right to destroy the tank. We should protect our tank. The farmer community should come forward for this. Let's struggle against the destruction the authorities are attempting to carry out."
LT