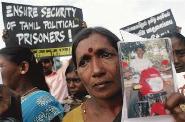 June 30, 2011 / By KRISHAN FRANCIS, Associated Press
Hundreds of people protested Thursday demanding to know the whereabouts of their family members abducted by "white van squads" allegedly operated by the Sri Lankan government during the height of the country's civil war.

The protesters said they have not heard from their sons or husbands since they were bundled into often white-colored vehicles or surrendered to the army over involvement with the now-defeated Tamil Tiger rebels.
Ramakrishnan Lalitha held the photographs of her two sons, Prathapan and Jegarupan, who were taken away on the same day in 2008 by men who identified themselves as navy personnel in the eastern port town of Trincomalee.
"My sons were at home, and some men came in and showed their navy identity cards and took my sons away saying they needed to be questioned," Lalitha said. She has not heard from her sons since.
Elarin Indrani said her son Mathew was taken away in 2007 by four masked men who arrived in a white van.
"They must identify the four men who took my son away. Only then we will know who gave the orders," she said.
Parents and relatives say their complaints and appeals to security authorities and foreign governments have been futile.
T. Murugaiah, 60, said that he wrote 670 letters to security officials and foreign embassies from the time his son, Ashok Kumar, father of three girls, was abducted in 2007.
"I got only replies but no one has been able to tell where my son is."
"My sons must be found or the people who abducted him must be found and brought before the law," he said.
Scores of ethnic Tamil civilians suspected of involvement with Tamil Tiger rebels, dissenting journalist and trade unionists were abducted during the civil war. Some were beaten up and released with the warning to be silent, while the fate of the others are not known. Wealthier people paid money for their release.
"The government should take responsibility for these disappearances," said Udul Premaratne an official of the
"We Sri Lankans" group which organized the demonstration.
"Freedom and democracy for Tamil people is a must for true ethnic harmony," he said.
The government has denied involvement in abductions during the 26-year war that ended in 2009. It has also not prosecuted anyone.
Tamil Tigers fought for an independent state for ethnic minority Tamils. Majority ethnic Sinhalese control the government and armed forces in the country.
Sri Lanka is under pressure to investigate alleged human rights violations, including execution of prisoners and heavy civilian casualties during the final days of the war. A U.N.-appointed experts panel has called for investigations into alleged atrocities committed by both sides and said the civilian deaths may be in tens of thousands.
SF Gate