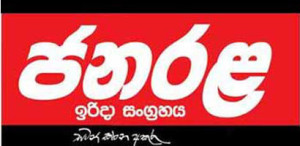 The attempt made to kidnap the news editor of 'Janarala' newspaper G.D.L Priyadarshana on May 30th night has failed.
Speaking to 'Sri Lanka Mirror' regarding the incident he stated, "I was standing on the road at around 10 pm at Ekala waiting for a bus. Then a man on motor bike arrived and offered to take me to Kotugoda. On our way we were engaged in a conversation where he stated that he is a police officer on duty. He showed me a pistol on his person and stated that he needs to see my National Identity Card. I refused. Asked me for my mobile number. I refused again.
Then he took me up to Gurugewatta Junction and said that he is not alone. When the bike stopped I saw a whit van with its lights offed coming towards the bike. Then a got down from the bike and ran on a by road."
Priyadarshana has filed a complaint (CIB 3 12/06) at Seeduwa Police regarding the incident.
A member of 'Janarala' staff stated that the report on a certain Lady in the newspaper might be behind the kidnap attempt.
The chief editor of the "Janarala" newspaper Chandana Sirimalwatta was questioned more than three hours on May 17th, by the Crime Division (north) Western Province, over an article published in the paper titled "A lady behind gold racket" and the police had visited the press and the 'Janarala' office earlier.