Image: photo taken by the journalist early this morning of the Covid ward of Kalubowila Teaching Hospital.
Female Journalist Thilakshani Madhuwanthi has posted a note on her social media account regarding the incredible plight of corona infected patients at the Kalubowila Hospital, South of Colombo.
Considering that Kalubowila Hospital is the premier hospital just outside capitol Colombo, it is inconceivable what the situation at outstations could be like.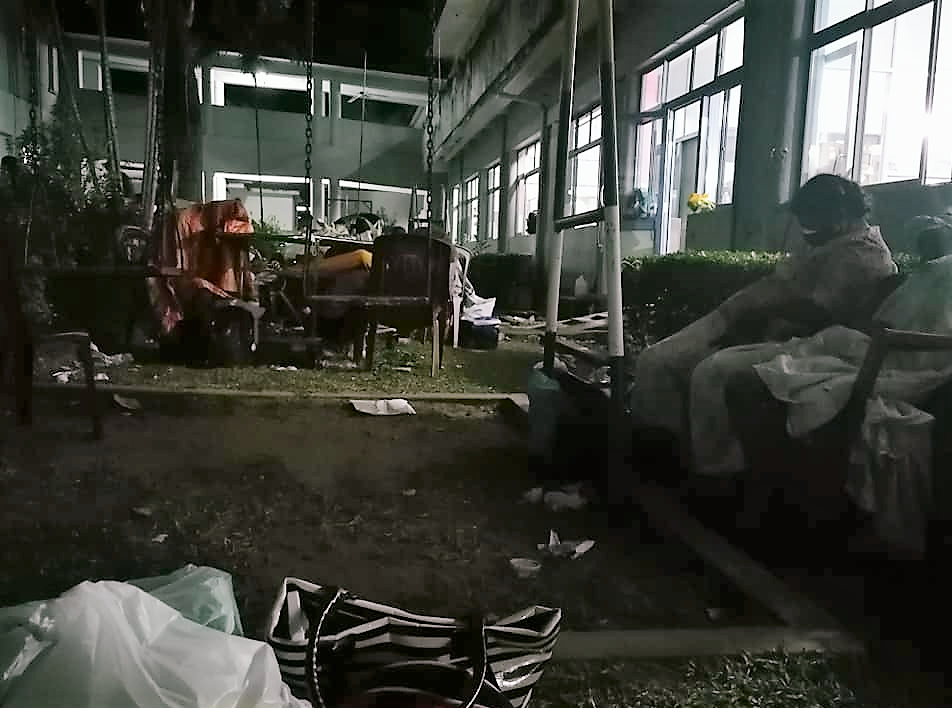 She makes this note as eye witness. On what she  saw while her mother was in a long queue to be hospitalized with a corona infection. She says two people died in front of her eyes while waiting in line and some fainted and fell to the ground.
Here is the article published on her FB page.
" Right now I  see the news I read about India with my own eyes.
It is 1.20 in the early morning.
This is the Covid ward of the Kalubowila hospital.
Two or three patients in one bed in the ward.
They are critically ill.
Under the beds in the ward, others are fighting for their lives, receiving oxygen.
There are so many patients on lying  the floor so I am  afraid to walk here.
All the rest of the infected (over a hundred people) lay on benches, chairs or under trees outside.
Others with or without a blanket on the sandy ground.
This morning too, the admission queue was very long.
I put my mother on a hard-to-find chair and taking care of her sitting on a stone wall.
Mosquitoes are biting, it is  cold, all of these people are fighting the Covid.
Within hours in front of my own eyes, two fell dead.
Some others faint and fell.
Staff is limited.
They work as hard as a goddess.
While my mother was fighting the Covid19 like this, my father is  waiting for days after handed over his life to  an oxygen machine.
There is no more helplessness.
Tomorrow I will be infected too.
I have only one thing to say.
Do not underestimate the Corona pandemic.
Be  careful as you can.
Take care of everyone in the family.
The news I read about India I see with my own eyes in my country today.
Be careful, be very careful.
Translated from Sinhala (c)SLB