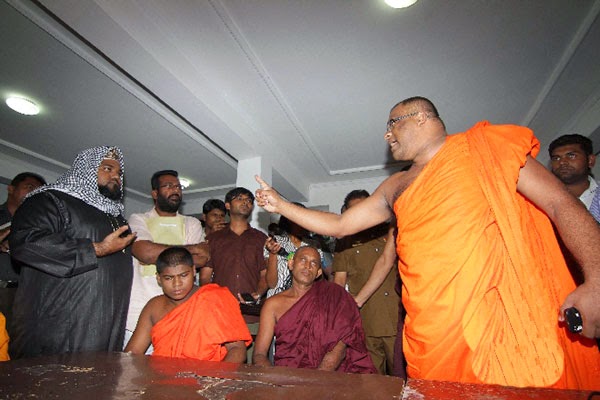 BBS leader Gnanasara in threatening mood
Bala Senas clash, reconcile & depart by Neth FM
A media briefing held by an organisation named 'Jathika Balasena' fell through amid the intervention of the Bodu Bala Sena organisation this morning (April 09). In a statement signed by Ven. Watareka Vijitha Thero, the 'Jathika Balasena' had said that the media briefing was convened against racist organisations rising in the country. Journalists had arrived to cover the media briefing, when it was stormed by the BBS, resulting in a heated situation. The 'Jathika Balasena' had brought in a group of Muslim nationals for the media briefing. However, they had left the venue under the above backdrop.
Subsequently, the Buddhist monks of the BBS had vigorously questioned the Buddhist monks led by Ven. Watareka Vijitha Thero.
The questions even involved several Dharma factors, and the BBS were not satisfied with the answers they received.
Subsequently, Ven. Vijitha Thero had stated that the 'Jathika Balasena' would be dissolved and apologised from the BBS.
Samanera Buddhist monks who had arrived with the BBS also apologised from Ven. Vijitha Thero for the inconvenience caused.
In the end, all Buddhist monks had hastily exited the venue.
Bodu Bala Sena violence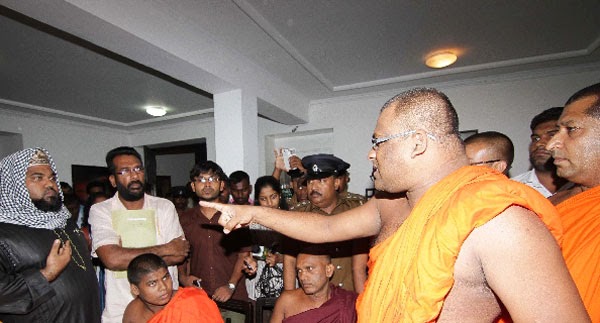 Bodu Bala Sena verbal violence against Muslims
(Neth FM)
BBS abuse monk and Muslim cleric
Bodu Bala Sena General Secretary, the Venerable Galaboda Aththe Gnanasara thero today verbally abused a Buddhist monk and a Muslim cleric after storming the venue of a press conference.
The private 'Swarnavahini' television showed Gnanasara thero and a group of people preventing the press conference from taking place and verbally abusing a Buddhist monk who was about to brief the media.
It was reported that the press briefing was organised to brief the media over allegations that a new resettlement colony was being constructed with funds from a Donor Agency and named as Jassim City inside the Wilpattu National Park.
Gnanasara thero was seen in the late evening news bulletin on 'Swarnavahini' verbally abusing the monk at the press conference venue and when the Muslim Cleric attempted to intervene he was also verbally abused.
The television channel also reported that yesterday Gnanasara thero accompanied by the police and a crew from the television channel had gone to the site at the Wilpattu National Park where the Bodu Bala Sena alleged that illegal resettlement was taking place.
Gnanasara thero and his supporters were shown threatening some people who were reportedly building homes in the area while men in police uniform looked on.
Muslim organizations in Sri Lanka had just yesterday raised concerns over the BBS and comments they continue to make on Muslim related issues.
In a letter to President Mahinda Rajapaksa, a copy which was made available to the media yesterday, the Muslim Council of Sri Lanka, the Sri Lanka Jamath-e-Islamia, the All Ceylon Jammiyyathul Ulama and 12 other Muslim organizations noted that the BBS was continuing to incite hatred against Muslims. (Colombo Gazette)