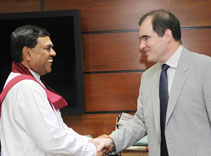 Sri Lanka has achieved excellent results in its Northern and Eastern rehabilitation and resettlement programme and post-conflict economic development drive. Other countries with similar problems can learn a lot from Sri Lanka on these issues. Therefore, Sri Lanka should share its experience with other countries.
These views were expressed by John Ging. Director, Coordination and Response Division, UN Office for the coordination of Humanitarian Affairs – OCHA, at a meeting with senior advisor to the President and Minister of Economic Development Basil Rajapaksa.

Ging, who is on a three-day official visit to Sri Lanka, met Basil Rajapaksa at the Ministry of Economic Development on Tuesday (31).
Rajapaksa said Sri Lanka had been able to complete most of the rehabilitation and reconstruction projects successfully because of the help given by the international community, including UN agencies and INGOS as well as the local institutions and people. Minister Rajapaksa said: "We have resettled the people displaced during the last phase of humanitarian operation. However, now, the biggest problem is to resettle the IDPs displaced during the earlier periods of the conflict. There are people in the IDP camps in India. Some people were chased away by the LTTE from the Northern and Eastern Provinces and they are still living in the places outside those provinces. They have not been given the facilities as the new IDPS. These old IDPs belong to all communities. Now, Sri Lanka has to solve this problem and the assistance of the international agencies would be needed."
Ging said that OCHA would give all assistance to resettle all the IDPs, old and new. He said he was confident that Sri Lanka could solve the problems related to all IDPs very soon.
"I have travelled to many countries with similar problems as it is my duty. But, I can definitely say that Sri Lanka's progress, in every sense, after the end of the conflict is tremendous, Northern and Eastern Provinces are enjoying normalcy. People are benefiting from the peace. Tourism is booming. Economy is progressing well. You could achieve all these things within a short period of time because of the country's able leadership. Now, the most important task is to rebuild the confidence among the international community about the country. OCHA will help Sri Lanka to achieve this end," he said.
Subnay Nandy, UN Resident coordinator in Sri Lanka, S. B. Divarathna, Secretary of the Special Task Force on North and East Development and Prof. Sunanda Maddumabandara, Director General/Communication Development also participated in the discussion.
IS