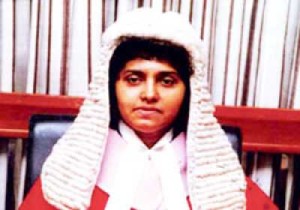 As reported by the Government mouth peice Celylon Daily News:
* To foil flight to escape bribery probe
* Used time buying tactics when called for submissions
The Commission to Investigate Allegations of Bribery and Corruption impounded the passport of former Chief Justice Shirani Bandaranayake to prevent her from escaping to a foreign country until the probe into the allegations of bribery and corruption against her is concluded.
The Commission has taken this decision in keeping with the legal powers vested in it and had communicated it to Controller General of Immigration and Emigration Chulananda Perera, on April 11.
The order to impound the passport of the former Chief Justice carried the signatures of all members of the Commission to Investigate Allegations of Bribery and Corruption — former Supreme Court Judge D. J. de S. Balapatabendi, former Appeal Court Judge L.K.Wimalachandra and former IGP Jayantha Wickremaratne.
The Commission is conducting investigations into an allegation of bribery and corruption made against the former Chief Justice pointing that she had amassed wealth beyond the means of an ordinary public servant while she was employed as a public servant.
The Commission had twice noticed Bandaranayake to appear before it and make her submissions but she had failed to do so on both occasions and asked for time to make submissions raising various objections. The Commission had received information that the ex-Chief Justice was planning to leave the country to dodge the probe into the allegations of bribery and corruption made against her. The decision to impound her passport was taken to thwart any such attempt.
Vijayani Edirisinghe