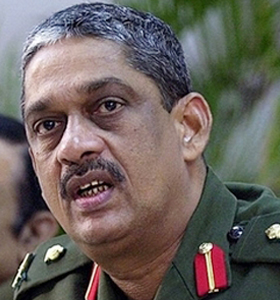 COLOMBO, Sri Lanka – (AP) — The ex-army chief who led the military campaign to defeat Tamil Tiger rebels says Sri Lanka should not fear an inquiry into its conduct during the civil war after a U.N. report alleged the government may be to blame for thousands of civilian deaths.
Former commander-turned-politician Sarath Fonseka spoke as international pressure has been growing for an independent investigation into possible war crimes. The U.N. Human Rights Council is discussing a draft resolution, and rights groups and foreign governments have called for a probe of the civil war that ended in 2009, after the government troops crushed the separatist rebels.

The Tamil Tigers fought for a separate state for the ethnic minority Tamils for more than a quarter century. A U.N. investigation indicated the ethnic Sinhalese-dominated government might have killed as many as 40,000 Tamil civilians in the war's final months.
"Accountability is something that you can't ignore basically," Fonseka told Colombo-based foreign correspondents Tuesday evening.
He added that he was ready to answer if someone questioned him. He said the battles were fought according to international rules and conventions but there still could be questions.
The government and military leaders "should be able to answer the questions if any queries are made about the conduct of the soldiers and the manner the operations were conducted," he said. "Those are things you can't just try to ignore. …
"We don't have to shy (away), we can answer. But they (the government) are not doing that," he continued. "I have no problem. I am confident and I know how the battle was conducted."
President Mahinda Rajapaksa's government initially denied any civilian deaths occurred but later agreed to investigate instances of alleged abuses identified by its own war inquiry.
Fonseka was a close ally of Rajapaksa during the war, and they were both considered war heroes by the Sinhalese majority. They fell out while Fonseka contested the 2010 presidential election, which Rajapaksa won. After the elections, Fonseka was charged and convicted of fraud and other crimes in what he and his supporters called a political vendetta by Rajapaksa's administration.
He was pardoned and released last year after much international pressure.
The U.N. draft resolution released late Monday calls on Sri Lanka to implement the recommendations of its own war commission and take act on to ensure justice and reconciliation.
It also calls for the implementation of recommendations issued last month by the U.N.'s top human rights official, Navi Pillay, who accused the government of failing to investigate reports of widespread killings and other war-time atrocities.
Pillay's report said opposition leaders were being killed or abducted in Sri Lanka. It also questioned the government's commitment to postwar justice and urged Sri Lankan authorities to allow international experts to investigate allegations of human rights violations.

Copyright 2013 The Associated Press.
By The Associated Press BHARATHA MALLAWARACHI (Associated Press)
NW