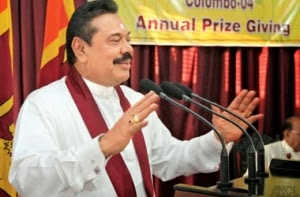 Europeans clamouring for Human Rights in Sri Lanka are akin to wolves sympathising with goats getting wet in the rain, President Mahinda Rajapaksa said. He said Western countries are talking of Human Rights without an iota of concern for the grievances faced by the people of all communities in the country.
"Certain elements of our country are also supporting them," President Rajapaksa said at the annual prize giving of Ramanathan Hindu Ladies College, Colombo yesterday.

The President was received by Principal Lt. Col Kothai Nagularaajah on arrival. This is the first time a Head of State graced such an occasion at this school since its inception. President Rajapaksa called on students to love their motherland. "Don't let anyone destroy the motherland." He said children in the North and South faced many challenges in the past. "They were denied their basic rights," he added.
He said that there was an era in which the children in the North and East were forcibly conscripted to the terrorist organisation. "Those who have money left the country with their offspring," he said.
The President added that no person was allowed to enter the North and East Provinces by the terrorists. President Rajapaksa added that the Tamil people underwent hardship during the LTTE conflict. He said the government ensured the rights of all children in the North by providing educational facilities. "The highest percentage of university students are from the North today," he said. President Rajapaksa said .
SirPonnambalam Ramanathan after whom the school was named is a Tamil leader who fought for the rights of the Sinhalese. He added that the late Ramanathan played a pivotal role in declaring Vesak Full Moon Day a public holiday.
Patron of the school D.M. Swaminathan, Education Minister Bandula Gunawardena, Deputy Minister Mohan Lal Grero and Senior Minister A.H.M. Fowzie were also present. Thulashy Sarveswaran received the award for the most outstanding student from President Rajapaksa. Sutheshana Sothilingam, the School Head Girl 2012, was adjudged the best all round student. She also received the awards from the President. Prathajini Ganeshamoorthy won the prize for the Best Student at the Year 05 scholarship examination.
Chaminda Perera
CDN