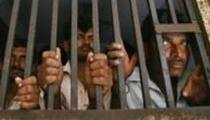 The European Union has called for a fair trial for long term detainees in Sri Lanka. Chair of the European Parliament Delegation for Relations with countries in South Asia, Jean Lambert, has told Xinhua that the EU parliament's position on long term detainees in Sri Lanka is that they should be either charged or released.

Several hundreds of suspected Tamil Tiger rebels and other political prisoners are in Sri Lankan prisons, some of whom have not faced trial or a charge years or months after they were arrested, minority Tamil political parties in Sri Lanka have said.
Asked about former Sri Lankan Army Commander Sarath Fonseka, who is in prison and has sought bail, Lambert said that the EU had wanted even him to be given a fair trial.
Fonseka was imprisoned over several charges just after he lost a Presidential election in 2010 against incumbent President Mahinda Rajapaksa.
Lambert also said that the fact that some war displaced people are still in temporary camps or shelters is of concern to the European Parliament.
Lambert led a delegation to Sri Lanka last week and had talks with Sri Lankan officials in the capital and in the eastern parts of the country.
Addressing reporters in Colombo last week she had said that more needs to be done in Sri Lanka even three years after the war between the army and Tamil Tiger rebels came to an end.
SLM