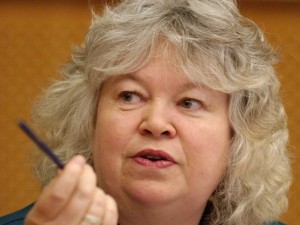 Jean Lambert
The European Union (EU) wants an independent investigation and evaluation into the final years of the war in Sri Lanka, in addition to the national enquiries.
Jean Lambert, Chair of the European Parliament Delegation to South Asia, told The Sunday Leader that the EU remains concerned about reports of threats and attacks on human rights defenders and journalists in Sri Lanka, and encourages authorities to hold those responsible accountable.
Recently the European Parliament passed a resolution on the upcoming UN Human Rights Council, re-emphasising the need for accountability and reconciliation in Sri Lanka.
Lambert said that the EU Parliament welcomed the UNHRC resolution last year on Sri Lanka, and would hope that progress has been made since its adoption.
"It is promising to note that there has not been an outbreak of conflict since the end of the war in 2009. We have seen some of the infrastructure investment made by the Government in the former conflict zones and have also discussed issues of job creation and social investment, which are positive steps forward and to be welcomed," she said.
However, she said many unsettled issues remain such as the inclusion of the Tamil population in post-war reconstruction efforts, and implementation of the recommendations contained in the Lessons Learnt and Reconciliation Commission Report.
Commenting on the recent report released by the army on the final stages of the war, Lambert said that the EU Parliament has not specifically discussed the report from the Sri Lankan Army but she took note that one of the conclusions is that the police should remain under the control of the Ministry of Defence.
"In our discussions with the Sri Lankan authorities we have been keen to ensure that the police are seen as a civilian force in order to develop a position of greater trust with the population," she said.
Lambert said the European Parliament would like to encourage the Sri Lankan authorities to work together with the UN Human Rights Office.
"We are hoping to welcome a Sri Lankan Parliamentary delegation to Brussels later this year, and see this as a good opportunity to hold more in-depth discussions on the overall situation in Sri Lanka," she said.
–CG