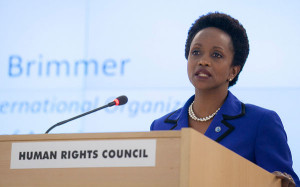 Mr. President, fellow delegates, distinguished guests,
It is an honor for me to once again represent the United States before the UN Human Rights Council, to present our first intervention since being elected to a second term. In September 2009, I delivered the first U.S. intervention as a member of this esteemed body, in which the United States pledged to pursue broad international cooperation, both with traditional partners and across longstanding divides, to advance universal human rights and strengthen the Human Rights Council's ability to achieve its essential mandate.
I set out four aspirations that this Council must work to attain: universality, dialogue, principle, and truth. And in the three and a half years since the United States first joined the Human Rights Council, we have seen much progress toward these aspirations, and have reached a number of impressive achievements, principally through broad cooperation and collaboration by this Council's diverse membership.
First among these achievements has been the Human Rights Council's heightened willingness and capacity to address heinous human rights violations. Over the past three years, the Council has taken concrete measures, often in real-time, that shine the spotlight on abuses, and muster international political will toward ending them. It is not a coincidence that violence can imperil human rights, and the Human Rights Council has not shied away from acting amidst ongoing instability and violence.
………………
The Council's work remains unfinished so long as Sri Lanka continues to fall short in implementing even the recommendations of its own Lessons Learned and Reconciliation Commission, or in addressing the underlying sources of its longstanding ethnic conflict. Last year's HRC resolution encouraged brave civil society groups on the ground to continue their efforts, and the United States will introduce another resolution at this session to ensure that the international community continues to monitor progress, and to again offer assistance on outstanding reconciliation and accountability issues. The United States hopes this resolution will be a cooperative effort with the Sri Lankan government.
……….
Mr. President, fellow delegates, distinguished guests,
Martin Luther King, Jr. famously said that though "we may have all come on different ships, we're in the same boat now." The diversity of national delegations seated in this chamber today, working together to forge solutions to so many of humanity's most inhuman acts, is itself a testament to the power and progress that comes from the cooperation at the root of the United Nations and of the Human Rights Council.
If we are to live up to the lofty ambition that the Human Rights Council by its nature represents, all our nations – working together, despite our different histories – must harness that same potential for progress, that same drive to ensure for all the universal human rights that are their birthrights. That is the standard by which we all must be judged, not just in this twenty-second Council session, but in future sessions and in the years to come.
Esther Brimmer is the Assistant Secretary, INTERNATIONAL ORGANIZATION AFFAIRS of USA