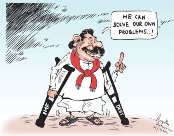 Colombo Additional Magistrate Kosala Senadheera, today released on police bail eight suspects who were taken into custody from a web site office in Rajagiriya. They were accused of defaming the President.

On Friday the Criminal Investigation Department (CID) raided the office of theSri Lanka Mirror and Lanka X news.
A CID said that they had violated the sections 118 of the Penal Code dealing with the publication of thearticles defamatory of the President and section 120 of the Penal Code thatcaused the public disaffection of the President and higher authorities.
However Counsel Saliya Pieris withUpul Kumarapperuma appearing for the suspects told court that the section 118 ofthe Penal Code had been had been repealed by an Act No. 12 of 2002 ten years before.

Hence, the counsel toldcourt that the suspects could not be arrested under that provision of the law andsought the release of the suspects on bail.

The court asked the CIDwhether there had been a public outcry in respect of the websites. The CIDreplied no such public outcry as yet.
ST