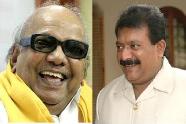 DMK chief M Karunanidhi on Wednesday said he would start pressuring the Centre for a referendum on a separate country for Sri Lankan Tamils soon after the Tamil Eelam Supporters Organisation (TESO) meet at Villupuram scheduled on August 5.

Addressing a public meeting here, he sought the support of Tamils across the world for TESO's efforts to attain a separate country for Lankan Tamils.
Assuring that the Tamil Eelam Supporters Organisationwould take steps to create a Tamil Eelam through a referendum, the DMK patriarch said that a resolution on the issue would be passed at the TESO meet.
Hailing former Union Minister A Raja, Karunanidhi said he had emerged out of the prison even after severe pressure by the Centre. "The birthday is only a number and there are many things to achieve in life", he said and asserted that the DMK would come out all the troubles.
Downplaying the party's defeat in the 2011 Assembly elections, he said poll results were like winds which were sometimes favourable and sometimes unfavourable. DMK had reemerged after several defeats and crises in the past and it would do so again, he said.
He also flayed the imprisonment and cases against the DMK ministers by the AIADMK government.
Responding to allegations that he had done nothing for his constituency, the DMK leader said he had allotted Rs 2 crore for the development of Tiruvarur.
DMK propaganda secretary A Raja, Union Minister of State SS Palanimanickam and former minister KO Si Mani were among those who attended the function.