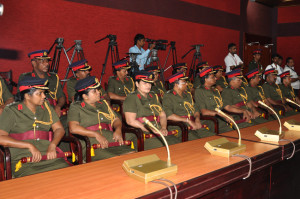 School Principals become military officers
Under the guidance of Secretary Defence and Urban Development Mr. Gotabaya Rajapaksa, 23 Class 1 Principals of Sri Lanka Education Administrative Service and officers of the Ministry of Education were Commissioned as Brevet Colonels at a ceremony held at the Defence Ministry premises today (08th October).
They were thus commissioned as Brevet Colonels in recognition of the services rendered by them towards the betterment of the National Cadet Corp (NCC).

The newly commissioned officers comprised of an Additional Secretary to the Ministry of Education, the Commissioner General of Educational Publications and 21 Principles of leading schools around the country.
In the long history of the NCC since its inception in 1881, a number of eminent personnel have been awarded with the prestigious rank of Brevet Colonels. Colonel RBW Narampanawa, Colonel SLB Amaranayaka, Colonel GW Rajapaksa and Colonel EA Perusinghe are some of the officers who were thus commissioned in the past.
Speaking at the event Secretary Defence said that by engaging in extra-curricular activities like cadetting students can develop their leadership qualities and build self confidence. He also said during his school days his Principal, Colonel VS Kudaligama was a military officer too and he had seen a clear difference between him and the ordinary Principals. He expressed confidence that the new officers will enhance their knowledge of the military service and work towards the betterment of the country.
The commissioning ceremony was organized by the National Cadet Corps. Secretary to the Ministry of Education Mr.Gotabaya Jayarathne, Additional Secretary (Defence) Mr.S Hettiarachchi, Director General of the National Cadet Corps Major General Gamini Jayasundara, senior Cadet Corp officers and family members of newly commissioned officers were also present at the ceremony.
– MOD