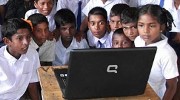 UGC asked to calculate Z-score separately for two syllabi
The Supreme Court yesterday declared null and void the August 2011 GCE (A/L) examination Z-score. The judgement said that there was a complex question as regards the Z-score calculated on the basis of the old syllabus and the new syllabus taken together.

The second respondent, the University Grants Commission, was directed to comply with Section 15 (Vii) of the Universities Act No. 16 of 1978, as amended and to take necessary and relevant steps to recalculate the Z-score marks of the candidates who sat the GCE (A/L) examination in August 2011, according to accepted methods.
The main issue, in the fundamental rights violation application, was the calculation of the Z-score. Therefore, it was not within the purview of the application to consider the validity of the raw results that had been released. Further, in the absence of any cogent material, the Supreme Court would not interfere in the results of the AL Examination, the judgment said.
The Court ruled that a complex question had arisen due to the treatment of the two syllabi as a single population. That was incorrect, it said.
Judgement said: "Although there is no specific provision dealing with the right to education in our Constitution as such, in the Universal declaration of Human Rights, the said right has been accepted and the right has been acknowledged by our Courts, through the provisions of Article 12 (1) of the Constitution. In doing so, the Supreme Court, has not only considered that the right to education has been accepted as a fundamental human right but also accepted the value of education, which has been described by James A. Garfield as next in importance to freedom and justice. Without education, neither freedom nor justice can be permanently maintained.
Since the UGC had taken steps to treat the two categories of students who sat for the New and Old syllabi as a single population, wherein, they clearly belong to two distinct populations, the UGC violated the petitioners' fundamental right to freedom from arbitrary treatment guaranteed in Article 12 (1) of the Constitution of Sri Lanka."
The Court accepted the view of the petitioners that the students had not been previously informed of the pooling of the two syllabi. More than half the population that sat the AL in August 2011, comprised students who followed the new syllabus.
J. C. Weliamuna appeared with Sanjeewa Ranaweera for the petitioner students and the petitioner Teacher Trade Union.
Faiz Mustapha PC, appeared with Kushan De Alwis, Kaushalya Nawaratne and Faizer Marker for the second respondent the University Grants Commission.
Senior State Counsel Nevin Pulle appeared with State Counsel Suren Gnanaraj for the Minister of Education the first respondent. Fifth respondent, Professor R. O. Thatill appeared for himself.
The Judgement was by the Chief Justice Dr. Shirani Bandaranayake with Justice N. G. Amaratunga and Justice K. Sripavan agreeing.
By Chitra Weerarathne
IS