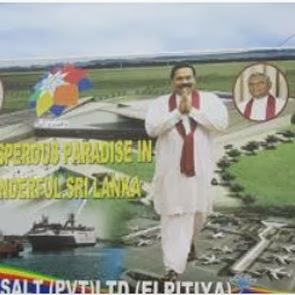 you cannot miss these bill boards
One of the very first things passengers getting off planes at Colombo's Bandaranaike International Airport see is a huge portrait of Sri Lankan president Mahinda Rajapaksa. The view remains pretty much the same as one travels across the island. You cannot miss the billboards and posters in every nook and corner with the president staring at you.
The visitors are also likely to see something more striking – almost insane infrastructural projects, the thing which magnifies Sinhalese majority's acclaim for nationalist government. Brand new roads, hotels and railway lines are to be the proofs of country's tremendous progress. The greatest efforts to make these proofs visible are being made in president's home district. The officials hope to boost economic development of the area by constructing a new city near dull fishing town of Hambantota.
Cricket stadium with capacity of 35,000 has been built nearby, as well as botanical gardens, offices, huge conference centre, ayurvedic hospital and, above all, international airport and harbour billed as the largest in South Asia. Most of these facilities, funded by enormous loans from China, are named after Rajapaksa or his family members.
Matalla Rajapaksa International Airport, functional since last year, has been built in the middle of jungle, some twenty kilometers from Hambantota. Located close to wetland areas of Bundala National Park, it is constantly visited by reptiles such as snake which was recently spotted in the VIP lounge. It is also the world's only airfield from which one could watch wild elephants. Electric fence keeps them away from the spot but the tuskers do manage to come onto the expressway nearby. Two passersby were recently killed, locals recounted. Most of the airlines have refused to fly to Lanka's biggest investment zone citing sparse traffic. Aircrafts often suffer birdhits. For now, only two carriers, including a Sri Lankan, dare to fly to this facility.
Though opened in 2010, Magampura Mahinda Rajapaksa Port also looks abandoned with silent machines and buffalos surviving on the grass near the construction site. Hardly any ship drops anchor there. Alhough built with much fanfare, the harbour turned out to be too shallow for large vessels. As if it wasn't enough, a huge rock in the seabed, preventing access to the coast, needed to be removed. All in all, the works at haven are to be finished in 2018 but some experts say Colombo port is more than sufficient for the island's traffic.
Such massive construction projects have had little impact on the lives of ordinary citizens. Mostly Chinese workers are employed at construction sites and it is very hard for a local to get a job, says a lorry driver in Hambantota. The fishermen also find no change in their lives since the project was started, except frequent visits of the President and members of his large entourage. Still, there are few people who are happy about it.
Indika, 23 year old sound engineer preparing local beach event is one of them. "It all would have been just a dream without our president," he says pointing at the new town. "Earlier, we could just read about our leaders in the newspapers and now we see them constantly". Mahinda Rajapaksa is the first such a high functionary from outside Colombo and according to Indika it is good he's preoccupied with helping as remote parts of the country as his own home province. But for the rest of the population, mere sighting of the leaders is not enough as they struggle with unemployment and high prices. In areas like Hambantota, not frequented by tourists, survival is tougher.
The North and East are still recovering from years of bloody civil war and local Tamils have a long list of grievances as they try to pick up the pieces of their lives. "People need peace. And peace doesn't mean only silenced guns, it also means opportunities to earn money and build houses for our families," a shopkeeper in Jaffna who didn't want to be named said.
The NGOs, operating in the region, complain about growing militarization, the journalists are distressed about threats to freedom of speech and the opposition leaders moan about lack of democracy.
However George, a Colombo businessman in his late thirties says the latter is not something that the country needs the most. "We need 15 years of stability and growth. After that, change of leadership may be needed. There is a price to be paid for strong government but the outcome is worth it". As for now, it seems that the economic development means everything on the island.
But it is likely to turn out not to be as delightful as Sri Lankans would wish to. The opposition accuses the government of a total sell-out to the Chinese, making the island nation virtually China's colony. Most construction-related work is contracted out to the Chinese and most material is imported from there. Beijing also walks away with a huge chunk of the income generated from the toiled new highways. Just for building of Hambantota harbour Sri Lanka has taken out 1,3 billion USD credit. The loan has to be repaid within 11 years while experts say it's unlikely the port will generate enough income to pay its annual. Xinhua estimates Colombo owes about 4 billion USD in total.
During his 8-year ruling Mahinda Rajapaksa, once a film actor, has managed to create a personality cult. "He's funny behaving as if he was a movie star," says Mary, manager of one of the seashore guesthouses 40 kilometres from country's capital. "He also spends too money for unnecessary investments".
Yet, Sri Lanka remains true heaven for the tourists. With pleasant climate, stunning landscapes, amazing wildlife and extremely friendly people it lures many. Backpackers enjoy its uncrowded routes and relatively low prices and don't seem to be worried neither about Lanka's haphazard development nor its future. But the people have to drift along with the whole Paradise Island, as it is described in tourist-aimed ads. Nobody really knows where the isle is drifting to but some are afraid it might be already a long way from home.