Story and photos by N. Parameswaran
There are still some 34.000 people, or 2,000 families, living in welfare centres or rented houses in the Jaffna district, close on two years after the conflict in the North and East ended. Another 7,100 displaced Jaffna residents are housed in refugee camps in India, as shown in the Jaffna District Secretariat records.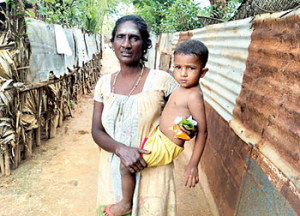 Jaffna residents awaiting resettlement are either rebuilding their shattered homes, or living in welfare camps where basic amenities are lacking and food supplies are barely adequate.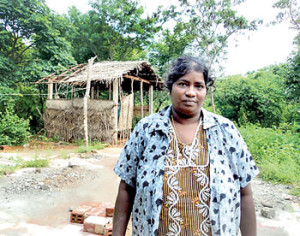 Starting from scratch, a Tellippalai resident has opened a small shop at her home
Kilinochchi Government Agent Roopavathy Ketheesawaran told the Sunday Times that 150 to 200 familes are waiting to be resettled in the Kilinochchi-Palai area. For now, resettlement is not permitted in seven Grama Niladahari divisions in the Mullaitivu district.
In Jaffna, most of the displaced persons come from the Palaly area, where the main Northern Province military base and airport are based. Some 44,300 persons, or 12,500 families, were displaced from this area, going back to June 1990. The Palaly residents are housed in welfare centres at Chunnakam, Mallakam and Point Pedro.
While displaced middle-class families are free to occupy rented houses, former residents of the coastal areas of Mathagal and Karainagar are still waiting to be resettled. A total of 410 families were displaced from Mathagal, and between 400 and 450 families from Karainagar. Another 3,500 Jaffna families are waiting to return to homes that are presently occupied by the Army.
The main camp for displaced persons in Jaffna is the Sabapathypillai Welfare Centre, which houses 270 families. Here, the most basic facilities, including sanitation, are minimal. Occupants shared their problems with the newspaper. S. Gowry said toilet pits overflow during the rainy season and become unusable.
K. Rajeswary said the displaced community has had to put up with much hardship, including limited food, since the government imposed restrictions on dry rations a year ago, S. Ponnuthurai is a mason, but finding work is difficult because of the influx of construction workers from the South. The most he can expect is 15 to 20 days of work a month.
Widow P. Bhavani lost her husband in the last stages of the war, during the battle at Mullaitivu. She and her two children live with her mother. She is so badly off that she is unable to buy shoes for her children to wear to school.
Residents of Tellippalai, Maviddapuram, Kollankaladdy, Keerimalai and Karuhampanai have been given the greenlight to return to their villages. Most of their homes were destroyed during the war, and the owners are slowly rebuilding their houses.N. Indrani's home in Kollankaladdy was flattened during the war. During the day, she works from a temporary cadjan tent while she goes about rebuilding her home. She spends the nights at her sister's home in the village of Uduvil, six kilometres away.
Many of the Kollankaladdy residents are in a similar plight as N. Indrani. People work on rebuilding their wrecked homes during the day, and spend the night elsewhere. At night, Kollankaladdy is almost deserted.
ST