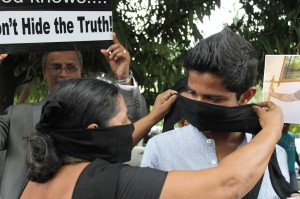 Sandya Eknaligoda and his son at a campaign ..
FMM wants Sri Lankan Government to reveal information on Prageeth
Sri Lankan Government MP Arundika Fernando told Parliament today that Journalist Prageeth Eknaligoda who is missing since 2010 January is living in France. As the Free Media Movement of Sri Lanka we would be highly grateful if the Government or Hon MP could provide us more information on whereabouts Prageeth as it will help us to locate Prageeth in France.
Since this statement was made in Parliament we hope that Hon. MP from the Government would have done it with good authority not like the statement made by Chief Justice Mohan Peiris before he was appointed as the Chief Justice that he has information that Prageeth is living abroad which he failed to disclose.
We hope and pray that this statement will not be a blatant lie as previously
Free Media Movement Sri Lanka
As reported by ada Derana TV website:
Prageeth Eknaligoda lives in France with his wife
UPFA MP for the Puttalam District, Arundika Fernando stated in parliament that missing journalist Pradeep Eknaligoda was currently living with his wife in France.
Responding to the opposition MPs who questioned the government regarding the media and Eknaligoda the UPFA MP stated that the Lankans in France were also aware that Eknaligoda was living there.