[Brito Fernando @ the 24th annual commemoration of the disappeared – October 27th 2014]
By Brito Fernando
At this 24th commemoration of the disappeared I would like to look back, as a person who has taken part in all previous 23 commemorations.
The first time we saw mass scale terror was in 1971.We saw burning bodies during the 1989 – 1990 period. We saw heads served from the bodies fixed to polls by the road side. It was Sinhalese who were crying at that time.
It was only 16 people who gathered on October 27th 1991 to commemorate the FTZ worker, Ranjith and his legal representative, Lional, who were shot dead and burnt here. At that gathering we pledged ourselves not to stop the struggle until we see an end to those killings and disappearances. Since then we have been organising remembrance annually against disappearances. At times there were not many people attended.
Although there was a fear of attacks somewhere in our minds while organising the commemorations, the personal threats we received were very few. In those days mothers or fathers who were looking for their disappeared children, were neither intimidated nor threatened . No posters were displayed with the photos of the activists like us. No stones were thrown at activist's houses. We were able to organise street campaigns against those killings with some fear that something could happen but freely.
Mahinda Rajapaksa on our stage
Those days one of our political leaders against the disappearances was Mr. Mahinda Rajapaksa. He even went to Geneva carrying information of the disappeared, funded by the civil society. Though the papers he was carrying were confiscated illegally by the authorities, at the Katunayake Airport, there was no fear that he would be assaulted at the airport on his way back from Geneva. We marched form Colombo to Katharagama having Mahinda Rajapaksa, Vasudeva Nanayakkara and Wickrambahu Karunarathana in front of us. Although we were afraid that UNP organisers might attack our procession, nothing of that sort happened and we marched over 19 days.
Mr. Mahinda Rajapaksa, who attended one of our remembrance meetings here, when he was the Minister for Fisheries, said that he would leave politics altogether if a single disappearance takes place under their regime, Today as human rights activists we face intimidations and threats as never before under his government. They cannot wear a sari and come to the road. If they do, intelligence offices question them as to where are they going and which meeting they are going to attend. They are constantly threatened. Even the mothers who came today from Mannar had to undergo number of difficulties to attend this commemoration. Today mothers in the North and East are not only discouraged in their search of what happened to their kit and kin but also not allowed at least to cry openly and loudly about their lost children. The Government is even monitoring their cries through the intelligence services. Alas! These things are happening under the rule of Mahinda Rajapaksa, who fought alongside us against disappearances.
On 25th night, two days before this commemoration , posters with the photos of the leaders of the supporting organizations, singer Jayathilaka Bandara who sing for peace and our full time staff members were pasted in this area accusing that we are traitors and devils. They were posted in front of our houses specially focusing us.
The third poster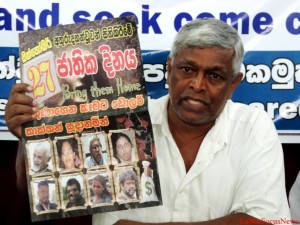 This was the third poster against NGOs in recent times.
The first poster was "Why NGOs are afraid of Mahinda''. The second one was " What NGOs did to the other countries like Sudan, Syria". The third one is the latest with our photos. In my 24 years history against disappearances, for the first time my house was stoned, only two stones, in yesterday's night. All these things are done to stop the public discussion and unity being built between mothers in the North and South in the common fight against the disappearances..
So under Mr. Mahinda Rajapaksha's regime we are facing unprecedented level of intimidations. The issue of disappearances has become one of the most dangerous and hated topic in recent times. The government has been trying to stop any public discussions on the disappeared. Today under Mahinda Rajapaksa's rule speaking about the disappeared is a taboo subject. People who stand for justice for the disappeared become traitors and anti-national.
Even under all these intimidations today I am happy because the people still have the courage to gather here, coming from North East and South. Sinhalese, Tamils, Muslims and Buddhist monks are here today standing together against the disappearances.
Two choices
This government has given us two choices, only. One is to forget what has happened, whoever dead is dead, disappeared has disappeared; and to enjoy the new harbors, carpeted roads and new bridges. The other option is to continue our struggle, keep asking what has happened to our loved ones and not to give in to the harassment, intimidation and threats.
We have a mother here, from South who saw how her husband being tortured. She do not know what happened to him afterwards. She was too tortured and raped continuously, in front of her husband. Still she cannot prove in front of the law what happened to her husband and how she was raped. Still she is trying to find an answer. There are so many mothers like her.
Two fathers who took part in every commemoration are not here today. They passed away recently. They used to said that they had died in 1990s when their children were abducted and disappeared. They were just living like corpses until now, as they could not find what happened to their children.
Twins who didn't see their father
The mothers and wives from North and South ask the same question from us, and from the whole society. What happened to our loved ones and why? The religious leaders, civil leaders and the whole society are being questioned by them to find out the truth. Mauri a young wife, with her newly born twins from Anuradapura asks the same question. The twins never saw their father. He was abducted and made to disappear. We, none of us, have any answers. That is the tragedy.
Today the mothers and the wives of the disappeared are asking the questions. One day their children who will not have any information about their fathers, will ask us, the society the same question. Can anyone among us give an answer ? If a society cannot answer such simple question about the whereabouts of the disappeared members of the society, what is the use of such a society? We all have to be ashamed for not being able to give an proper answer. The government in power too should take the blame.
How many more commemorations such as these, how many generations are needed to get an clear answer for this question?
I think everyone here has done something to oppose the disappearances.
Still we have to ask ourselves what we has we have done to stop this crime against humanity and to find an proper answer or grieving mothers and relatives ?
We all have a responsibility. That is to stop this crime against humankind, We have to do our utmost to put a full stop to this crime.
A mother from Argentina whose son had disappeared, once said that the most cruel crime is losing hope for the the families who had lost their loved ones. So we need to keep our hopes. The struggle keeps our hopes alive.
Our message to Government
We would like to send a message to the Government of Mahinda Rajapaksa, who was on this platform with us some time ago. No matter, how many posters are put up against us, how many of our houses are stoned, how many activists are force leave the country, how many human rights activists are killed, our struggle will go on. This 24th commemoration itself proves our point.
Mr. Rajapaksa has left the struggle and changed his path. He has changed his principals also. People who have gathered here will not stop the calling for justice for the disappeared. They cannot, because it is their life's dream.
Dear brothers and sisters, Mothers and Fathers, reaching our aim could be a long journey. It may, sometimes, even demand for our lives. Only way to overcome this suppression and to keep our hopes amidst these unprecedented obstacles is to do something in furthering our aims, whatever small it may be. And let's be united in our demand for accountability and justice for the disappeared.
[From the Speech made by Mr. Brito Fernando – The President of Families of the Disappeared @ the 24th annual commemoration of the disappeared – October 27th 2014]
[All photos in this post are form http://lankafocusnews.com/]