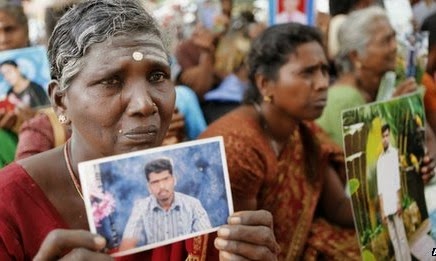 Chris Kamalendran
Some family members of missing people have charged that police officers in civvies diverted them to an alternate office while they were waiting at the Kilinochchi Kachcheri to give details to the commission probing the whereabouts of missing people.
The civilians complained to the Kilinochchi Government Agent that the policemen had directed them to another office 100 metres away, claiming that it was also part of the commission office and they could lodge their complaints about disappearances and abductions.

They said officials from the Ministries of Economic Development, Child Development and Women's Affairs and Social Services and several government departments were present along with Terrorism Investigation Department officials at this office at 'Harmony Centre' in Kilinochchi.
"We were told that if we claimed that our missing kith and kin were abducted by the LTTE they could arrange to issue death certificates in addition to providing relief including dry rations," one of the residents said.
He said that about 15 people received a cheque for Rs. 100,000 each after they agreed to the conditions.
Former Judge Maxwell Paranagama who is heading the commission to investigate complaints regarding missing persons told the Sunday Times that when the first sittings were in progress at the Kachcheri some people who turned up to present their cases had reported to an office close by and lodged their complaints.
"We are an independent body looking into complaints regarding missing persons. We have already received more than 13,000 complaints including some 5,000 about service personnel who have gone missing while serving in the North," he said.
Meanwhile, Police Spokesman SSP Ajith Rohana said they had no hidden agenda in conducting a relief programme to help the affected families. "We were trying to help these people," he said.
He said they had nothing to do with the Commission.
Meanwhile the Commission is due to have its next sittings in Mullaitivu followed by sittings in Jaffna, Kilinochchi and Mannar.
ST