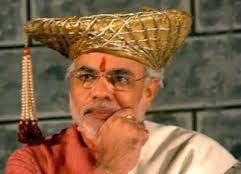 Prabhu Chawla
The Indian meteorological department is a whimsical prognosticator, failing to predict the weather—including storms—quite often. Fierce arguments break out over its efficacy, but with fewer loyalists than cynics. A similar battle is on over political forecasting, with fewer takers for contrarians. Fair weather birds have started migrating to safer climes, so that they can be sighted and counted, while prancing and preening in the changed weather. From boardrooms to newsrooms, Gujarat CM Narendra Modi is seen as manna from heaven; one who can redeem India's miserable millions, including the richie rich, from despair. The media has already crowned Modi India's next PM.
Ironically, those who vilified him as a monster a decade ago are now scrambling to either sit next to him or bask in his shadow. Undoubtedly, Modi is one of the most successful and effective CMs who have delivered on many fronts without facing a single corruption charge in the last 12 years. Nevertheless, his marketing skills, coupled with schisms in the BJP, made him the most sought-after leader in the world's largest democracy.
In the age of instant data creation and ready-to-offer opinion, political astrology has never been so easy. If there are 10 people in a drawing room, at least seven are willing to wager their last paisa on Modi as PM. Most of them hate the BJP, but they feel India deserves Modi. If one calls it a Modi Wave, another terms it an impending tsunami, which will uproot evil outfits like the Left, AAP and Congress. According to various opinion polls, self-appointed pollsters and academicians, Modi would gather a maximum of 280 and a minimum of 225 seats. No logic, however, is offered for this calculation. Even Atal Bihari Vajpayee, India's most popular non-Congress leader ever, couldn't win more than 183 seats for the BJP. Even in 1977, when the entire north and west India was united against the Congress, the rookie Janata Party couldn't seize more than 285 seats. In 1989, V P Singh, riding the Bofors scandal, could muster just 140 seats; that too with the support of the BJP and Left. In 2004, the same oracles had written off the Congress, which made a triumphant comeback. Now, traumatised, it is paying a heavy price for non-governance and scams. Nor does it have regional satraps who can swing an election its way.
The anti-Congress vote is making Modi India's most probable PM. Predicting seats, however, is more difficult that winning them. Since Modi appears to be contesting all the 400 BJP seats, the outcome will be decided by his popularity and acceptability. If there is a wave, it should be visible in all the seats and get converted into winning numbers. A close analysis of around 50 constituencies reveals that Modi is a premier brand name. The numerical difference between a Modi Wave and the anti-Modi sentiment is about 100 seats (see graphic). The BJP would undoubtedly emerge as the single largest party. But its capacity to form the government on its own is the real issue.
The BJP is likely to snatch seats only from the Congress and not from any major regional party. It is in a direct fight with the Congress in less than 250 seats, out of which it already holds over 100, and the Congress around 150. In order to cross the 200-mark, the BJP has to gain at least 100 seats from the Congress, which could lose around 20 of its 116 current Lok Sabha seats. The BJP is in no position to take seats away from Mamata, Mayawati, Jayalalithaa, the Left and from the Northeast parties. This can happen only if Modi can break caste, community and regional barriers, which his promoters are confident about. If the Modi wave is able to demolish traditional voting patterns, the BJP alone could cross over 240 seats. But if Modi fails to successfully exploit anti-incumbency disgust and convert his personal popularity into votes, the BJP may not even cross its current record of 180 seats. If he fails to break Vajpayee's record, he will be seen as leader with more hype than substance.
His detractors and even some of his current companions would turn around and say the NDA lost in 2004 because of the Modi factor and has failed now because he converted the battle into Modi vs the Rest.