(Lanka Truth) A 'Sathyagraha' campaign to protest against the communal clashes that occurred in Digana area in Kandy District and the attempt to spread communalism in other areas was held at Viharamahadevi Park today n 9th March.
The 'Sathyagraha' organized by the JVP was participated by a large crowd including representatives of civil society organizations, artists, university lecturers and professors, Bhikkus of National Bhikkhu Front and members of several Muslim organizations.
Speaking to the media the Leader of the JVP Anura Dissanayaka said, "What exploded in Kandy was not an isolated incident or happened spontaneously. Communalism was systematically aroused throughout out the country by various interested parties. Certain political movements instead of finding solutions for issues confronted by the people were bent on spreading communalism among their communities. Politics has divided communalism into camps. As such, communalism that has surfaced in our country should be defeated.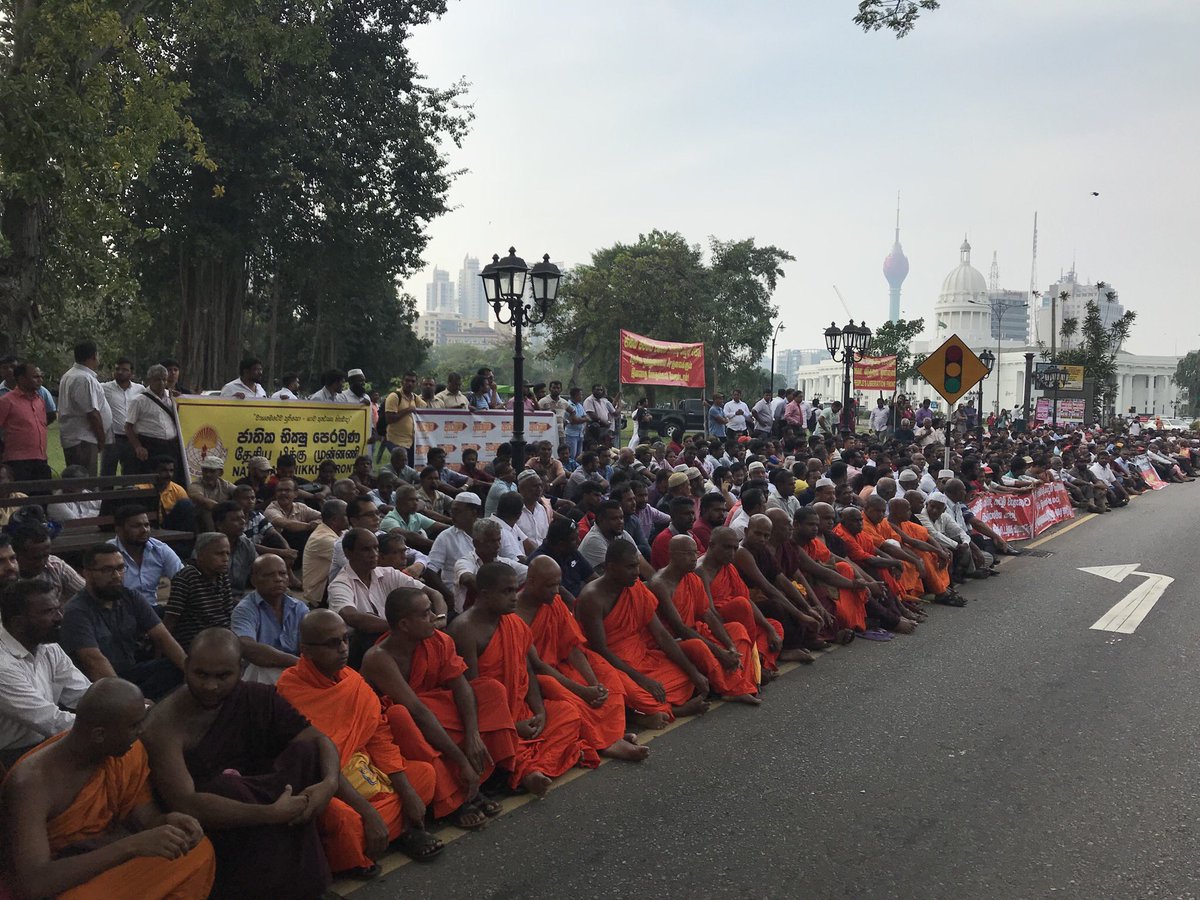 There are Sinhalese, Tamil, Muslim, Burgher and Malay communities living in our country. Without accepting equal rights for them, national unity cannot be built. Communal clashes do not surface through Sinhalese Buddhists, Tamil Hindus or Muslim Islamists. It is very clear that it is a movement with a political agenda. As such, this communalist tendency should be defeated. These communal clashes are an advantage to rulers. They could conceal the real issues and divert people's opposition away from them. Hence, all Sinhalese, Tamil, Muslim and other people should come forward to defeat all sorts of communalism."
The President of National Bhikkhu Front Ven. Handugala Rathanapala Thero, Attorney at Law Upul Kumarapperuma, Dr HinidumaSunil Senevi, Dr Athulasiri Samarakone, Dr Dileepa Vitharana of the Open University, Former Ministry Secretary Ashoka Peiris and members of Muslim Organizations addressed the gathering.
(LT)