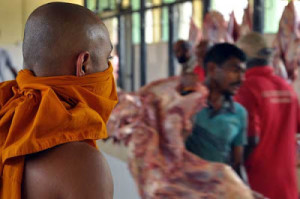 BBS monks invading a muslin owned Butchery in Dematagoda, Colombo
Protecting Inter-religious Harmony and Democratic Freedoms by Friday Forum
The Friday Forum has, in several earlier statements, drawn attention to the breakdown of law and order witnessed in Sri Lanka in the recent past. We have pointed to the escalation of grave crimes committed even in public places. Recent campaigns by women activists have highlighted a serious problem of gender-based violence and child abuse. The failure of the police to act swiftly and effectively in enforcing the law has encouraged individuals and groups of people to take the law into their own hands.
The environment of impunity has provided opportunities for gang and mob violence and caused a growing sense of fear and personal insecurity.
Acts of mob violence have increasingly targeted religious minorities and places of worship. Several groups such as the Bodu Bala Sena and the Sinhala Ravaya, some led by Buddhist monks have engaged in campaigns which can seriously undermine communal and religious harmony and peaceful coexistence among our diverse communities. The Friday Forum has already expressed its concern regarding the attack on the Dambulla mosque in April last year and the more recent anti-Muslim campaign. This campaign has become increasingly strident and has resulted in acts of mob violence against Muslims. Muslim commercial enterprises have been the target of attacks. Currently there are alarming reports of Muslim women and girls being publicly humiliated and even physically attacked on account of their attire. Several Christian places of worship and private homes have also been targeted. The burning of the Mother Mary statue in Avissawella early this year and the reported mob attacks on a Christian religious centre in Kahatagahapitiya a few days ago are two among many such incidents. It has also been reported that private residences in Nawala and Weeraketiya were attacked by mobs, interfering with the rights of the occupants to engage in religious activities. Some monks have joined groups of persons who have sought to assume the role of law enforcement agencies, engaging in a dangerous trend of "policing" supposedly in the interest of the majority Sinhala Buddhist community.
The Friday Forum unequivocally supports the right to freedom of religion and speech enshrined in our Constitution. We recognize the rights of all citizens to peacefully express their opposition to what they disagree with, for example by boycotts. However, such rights do not extend to perpetrating acts of intimidation and violence against anyone. Statements and actions which arouse racial and religious tensions inciting violence cannot be tolerated as freedom of religion, speech and expression. Vigilantism and mob rule must also be unequivocally condemned, and those who attempt to engage in such activities must be dealt with under the law.
The Friday Forum urges all responsible citizens including religious leaders to actively oppose and counter acts of racial and religious hatred. We also call upon the government to act swiftly to prevent people taking the law into their own hands in the name of these destructive campaigns. While acknowledging the constraints under which the Police carry out their duties, the Friday Forum urges the Police to take immediate and firm measures to enforce the law and safeguard personal security of citizens who are victims of these campaigns. We welcome the recent statement of the Inspector General of Police reported in the Daily Mirror of 16 March 2013 where he warned that some elements appeared to be making a subtle attempt to disturb racial and religious harmony. The IGP declared that the police department is committed to ensuring the safety and security of everyone belonging to all races and religions and will treat everyone equally. Any opinions, he said, must be expressed respecting the law of the land, and solutions must be found to problems through negotiations. We urge the Government to ensure that the IGP and the Police are given the space and support they need to carry out their functions and duties. Implementing the recommendation of the LLRC that the Police be delinked from the Defence Ministry and the independent Police Commission be reinstated has become a critical need in the current context.
It is encouraging that some politicians, at both provincial and national levels, have voiced objections to racist organizations in the strongest terms. It has also been reported that two Ministers of the North Western Provincial Council have taken firm measures, together with the Police, to prevent these groups from carrying out campaigns of intimidation and harassment against minority communities. While expressing our appreciation of these individuals for their responsible leadership, the Friday Forum again calls upon the President to act immediately and decisively to effectively counter these campaigns. The government has a responsibility to foster communal harmony, to maintain law and order, and to ensure peace and security in the country. Moving from rhetoric to action is vital and urgent if we are to avert a tragic escalation of violence.
Jayantha Dhanapala Professor Savitri Goonesekere
On behalf of Friday Forum, the Group of Concerned Citizens consisting of;
Mr. Jayantha Dhanapala, Professor Savitri Goonesekera, Rt. Rev. Bishop Duleep de Chickera, Professor Camena Gunaratne, Professor Arjuna Aluwihare, Professor Gananath Obeysekera, Ms. Shanthi Dias, Professor Ranjini Obeysekera, Mr. Lanka Nesiah, Rev. Dr. Jayasiri Peiris, Ms. Anne Abayasekara, Dr. Upatissa Pethiyagoda, Dr. A. C. Visvalingam, Dr. Devanesan Nesiah, Mr. J.C. Weliamuna, Dr. Deepika Udagama, Dr. Jayampathy Wickramaratne, Mr. Ahilan Kadirgarmar, Mr. Ranjit Fernando, Mr. Javid Yusf, Ms. Manouri Muttetuwegama, Mr. Daneshan Casiechetty, Mr. Faiz-ur.Rahman, Mr. Prashan de Visser, Mr. C. Jayaratne.