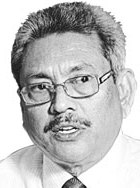 Defence Secretary Gotabhaya Rajapaksa yesterday warned the government of dire consequences in case the Tamil National Alliance (TNA) won the first northern provincial council election.The Defence Secretary was responding to a statement attributed to Petroleum Minister Anura Priyadarshana Yapa, at Wednesday's post-cabinet media briefing, that the election would be held in accordance with the 13th Amendment to the Constitution.
Minister Yapa ruled out the possibility of diluting the 13th Amendment before the election.
Asked whether he would publicly campaign against the decision, the Gajaba Regiment veteran said: "As the
Secretary, Ministry of Defence, my responsibility is to warn the government of the grave repercussions of empowering a hostile provincial administration with land and police powers. Police powers in the hands of those still pursuing a separatist agenda can pose a severe threat to national security."
The Defence Secretary said that the government should carefully examine the 13th Amendment to the Constitution without succumbing to international and domestic pressure. Declining to comment on the
SLFP-led UPFA being divided on the issue with some constituents, the National Freedom Front and the Jathika Hela Urumaya voicing strong opposition to the proposed polls, the Defence Secretary said that the northern provincial administration could pursue the eelam project.
Responding to a query, the outspoken official said that he accepted the need to hold the northern provincial council election. "But having paid a heavy price in the battlefield to eradicate the LTTE, it would be foolish on our part to create conditions for a new war," the Defence Secretary said. "I cannot impose my will on the political establishment. But, I intend to tell those who still consider the 13th Amendment as panacea for all our ills, it'll be the primary cause for another conflict," he said.
Tajapaksa that the government should immediately launch a wide ranging discussion on the 13th Amendment. "Let there be an open discussion on the issue. The legal fraternity can also examine it," the official said.
Devolution of police and land powers meant that the Northern Province comprising the districts of Jaffna, Mullaitivu, Vavuniya, Mannar and Kilinochchi could pose a major security challenge, the Defence Secretary said. A hostile administration could interfere with anti-terrorism investigations undertaken by the government as well as positioning of personnel in the northern region, he said.
Had the LTTE accepted the Indo-Lanka Accord (ILA) it could have had easily achieved eelam, the Defence Secretary said. Perhaps the LTTE, at that time, had failed to realize the 13th Amendment introduced in accordance with the ILA met its demand for a separate administration. Due to its arrogance and over confidence in military capability, the LTTE provoked the Indian Army to declare war on them in October 1987, the Defence Secretary said.