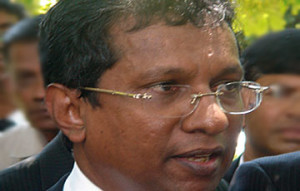 Weliamuna a leading pro democracy lawyer under death threats
Lawyers get threatening letter
Death threats for Weliamuna- UNP
Weliamuna senior Lawyer targeted for murder : MaRa plot leaks out

Lawyers get threatening letters
Attorney-at-law Dr. Jayampathi Wickramarathne PC, J.C. Weliamuna and M.A. Sumanthiran had received threatening letters, Human rights lawyer, J.C. Weliamuna said today.
Accordingly J.C Weliamuna had lodged a complaint at the Kohuwala Police station, while Dr. Wickramarathne had lodged a complaint at the Welikada Police.
President's Counsel (PC) Romesh de Silva also received a copy of letter that was sent to Mr. Weliamuna.
Meanwhile, police spokesman SSP Prishantha Jayakody confirmed that the Police had received complaints from the lawyers.
DM

Death threats for Weliamuna- UNP
One of the mains activists of the Lawyer's Collective, Mr. J.C. Weliamuna has been subject to death threat, according to the UNP. The UNP's Media Head, MP Mr. Mangal Samaraweera revealed this during a media briefing held today(17) at the official residence of the Leader of the Opposition.
During the past few days there were strange allegations made against Mr. Weliamuna with the intention of stirring up the wrath of the people against him, by govt media, and even today the SLBC made such a broadcast., the MP said.
Quoting from an Lanka e-news web report, Mr. Samaraweera stated that an underworld figure had been contracted to assassinate or cause severe bodily harm to Mr. Weliamuna.
Mr Samaraweera said that the underworld leader who had been released from jail on December 16,Madiwela ' Dolopin Chandana' alias 'Watte Chandand' had been thus assigned.
– SLM

Weliamuna senior Lawyer targeted for murder : MaRa plot leaks out
J.C. Weliamuna a senior lawyer and a doyen among the legal circle who had been spearheading the campaign of the Lawyers collective for the independence of the judiciary had been targeted for murder or to be caused serious injuries, by the MaRa regime deploying an underworld murderer, according to reports reaching Lanka e News.
It is the underworld leader Madiwala Dolphin Chandana recently released from jail after withdrawal of charges on 16th December last by the AG's Dept. who had been chosen to execute this task. Based on information , this murderer had been trailing behind Weliamuna for the last two days studying his movements with a view to subjecting Weliamuna to a planned accident. Under this regime such accidental deaths or causing serious injuries had been a very common occurrence and has al along been a MaRa regime's favorite hobby. Sripathy Sooriyaarachi and two University unions student leaders were killed in such accidents.
A prime witness in the mass murder of 17 welfare workers in Mutur , fled to Australia. After he fled, MaRa inquiring , whether he had not still met with an accident is a well and widely known story.
The STF Van too had been provided to assist Dolphin Chandana alias Watte Chandana . The inmates of the Van are under the control of Jayaratne , an STF officer . He is a close crony and underling of STF ASP Sylvester. This Jayaratne had been chosen by his brother who is a member of the PSD paramilitary team and very close to the Medamulana MaRa . Jayaratne's brother was recruited to MaRa's PSD as an SF officer of the paramilitary group.
The name 'Dolphin Chandana' had been given to this underworld leader because he is notorious for robbing Dolphin Vans. He is also having the following charges :
14 murders, 9 instances of unlawful custody of firearms, Two rapes . He was in jail on account of these charges. Lanka e news reported on this on 27th December under the caption 'yet another underworld leader released by MaRa regime'
When Lanka e news informed Weliamuna about the impending peril to his life before publishing this news , he said , he was not unaware of this danger under this brutal regime when he joined in the campaign for the independence of the judiciary , but he hoped that would not happen.
'It is a truism every man who is born must die. That is common to all including me. Death is no threat. But it is imperative that every civilized being between his birth and death shall discharge his duties towards the country , community and profession. Now , along with the Lawyers I am discharging my duty. At a time when the independence of the judiciary is being wantonly 'killed' and its funeral is imminent in SL , just by murdering individuals one by one by the powers be will not be availing. Even if I am liquidated , there are many thousands of Lawyers and people who will come forward on my behalf. There is no doubt that this is a campaign that will not fail and finally succeed, he asserted with confidence.
LeN
http://www.lankaenews.com/English/news.php?id=13359
———–