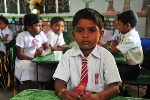 As thousands of students begin uninterrupted schooling after a lapse of years, education officials in Sri Lanka's former northern conflict zone are facing a shortage of teachers.

John Edward Solemn, assistant education director of Vavuniya South, an educational division, said the lack of teachers, especially in rural schools and in the subjects of English, mathematics and science, was a major concern for the region.
In 26 years of fighting, schools were destroyed and children's access to education was disrupted. Now, more than two years after the government declared victory over the Liberation Tigers of Tamil Eelam (LTTE), many structures have been repaired, students are primed, but heads of classrooms are scarce.
The situation in Vavuniya South is bad, Solemn said. Of a required 197 English teachers, the division had less than half. There are only 87 science teachers, out of 199 slots. But Vavuniya South, farthest from where the fighting took place, is not the worst.
Solemn said the situation is the most dire in the two rural divisions of Vavunjya: Vavuniya North and Chettikulam, with only two teachers for 10 classes sometimes.
Similar shortages are faced in Kilinochchi District, at the heart of the fighting in the last days of the war, where some 400 posts need to be filled. The largest shortages were recorded at secondary school level, but primary schools are part of the problem too, Solemn said.
Transportation, accommodation and the lack of basic facilities such as safe water and healthcare do not create an inviting environment for professional teachers, Kandiah Muruganantham, a retired education officer in Kilinochchi, told IRIN.
"When the appointments are in far-off places, getting there is difficult, and staying there is even more difficult," he said. "There needs to be some kind of a programme that looks into these issues."
Officials agreed that nothing to entice teachers north had worked so far. And shortages in other parts of the country had kept teachers in demand elsewhere.
"They [teachers] do not get special bonuses for serving in these areas, so there is no monetary inclination or otherwise to come and teach here. Why should they when they are in high demand everywhere in the country?" Murunganatham added.
In 2010, the government trained 1,500 teachers and education officers, including a training of trainers' session for 50 advisers in the area. The government also plans a targeted training programme to alleviate shortages in English, maths, science and information technology.
Of a total 1,016 schools in the Northern Province, 850 are operational, according to government and UN reports.
Of these, 720 have been repaired at a cost of US$4.2 million, according to the Joint Plan of Assistance Northern Province 2011, released by the Sri Lanka government, the UN and other partners in February. At least 114 schools in the province will undergo further rehabilitation and development under the national programme in 2011.
The same report estimated 100,000 children of school-going age lived in the province.
The revival of education is already having an impact in the province, with children and families eager to return to normality, according to teachers and their pupils.
"Students are coming to school regularly. We see more interest in education now," said Subramanium Vivekanandan, head of Vipulananda School, one of the largest in Vavuniya. Of 179 students who sat the 2010 year-five scholarship exam, a nationwide test, 81 passed. "Passing even 10 students would have been excellent," he said.
But Vivekanandan said the lack of teachers had forced him to conduct extra classes to meet the demand. "Sometimes we go on until five or six in the evening," he said.
The teacher, native to Vavuniya, noted that even being able to stay late was testament to the change in the level of safety and security since the war ended.
"We could offer so much more to these kids if we had enough trained teachers," he said.
IRIN, the humanitarian news and analysis service of the UN Office for the Coordination of Humanitarian Affairs. The opinions expressed do not necessarily reflect those of the United Nations or its Member States
IRIN