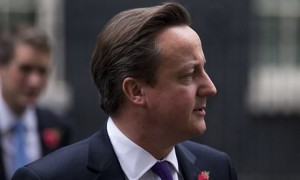 Add captionDavid Cameron is due to be the first British leader to visit northern Sri Lanka since the country's independence
David Cameron
has said an international inquiry into allegations of
war crimes
in
Sri Lanka
may be needed, as he prepares to attend a
Commonwealth summit
there.
The prime minister has previously said Sri Lanka's controversial government needs to hold an independent investigation, but has now turned up the rhetoric by calling for an inquiry with international oversight if the country does not order its own review.

Members of the Tamil community urged him at a Downing Street meeting to boycott the summit due to take place next week. Failing that, they called on him to leave William Hague, the foreign secretary, behind in London as a mark of his dissatisfaction with Sri Lanka's human rights record. They also urged him to press for Sri Lanka to be stripped of its two-year chairmanship of the Commonwealth.
Cameron and Hague argue they will make more of an impact by turning up to the summit and making the case for Sri Lanka to investigate thoroughly accusations of abuses in the country. There have been allegations the government, headed by president Mahinda Rajapaksa, has been complicit in kidnappings, torture and other human rights abuses.
The prime minister will be the first leader to visit the war-ravaged north of Sri Lanka since the country's independence in 1948, where he will meet people directly affected by the 25-year civil war, which ended in 2009 after the deaths of tens of thousands of people.
Writing in the Tamil Guardian, he said: "Some, including many in the Tamil community here in Britain, have called for me not to attend because of the Sri Lankan government's poor record on human rights and cruel treatment of Tamils.
"Four years after the conflict, no one has been held to account for grave allegations of war crimes and sexual violence, journalists are routinely intimidated and thousands of people have yet to find out what has happened to their missing relatives.
"I want to see that change. And I do not believe boycotting the Commonwealth meeting will achieve that. The right thing to do is to engage. To visit the country. To shine the international spotlight on the lack of progress in the country. And to have frank conversations with the Sri Lankan government about what they must do to address the concerns of the international community and to improve the daily life of thousands of Tamils and civilians across all communities."
Cameron will demand the Sri Lankan government investigate "alleged war crimes and allegations of continuing human rights abuses, guarantee freedom of expression, and stamp out intimidation of journalists and human rights defenders – including by bringing those responsible to justice".
"This will not be an easy conversation," he said. "But diplomacy is not about ducking the difficult discussions. It is about talking to those that you may not agree with precisely because you want to change their approach.".
The controversy over Sri Lanka's human rights has overshadowed the Commonwealth heads of government meeting, which is held every two years.
Suren Surendiran, spokesman for the Global Tamil Forum, said the group was "not satisfied" that Cameron was refusing to boycott the summit, unlike Stephen Harper, the prime minister of Canada. However, he said it would be a big step forward if Cameron presses for an international inquiry when he meets the Sri Lankan government.
A Number 10 spokespon said: "We have consistently called for an independent inquiry into the allegations. To date, that has not happened. And the PM believes that in the absence of an independent investigation, an international inquiry would be needed."
The Gaurdian