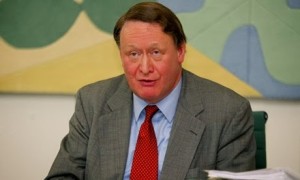 Sir John Stanley
Chairman of arms control committee said it was 'not credible' to claim weapons exported were all used to combat piracy
David Cameron must explain why the government has allowed machine guns and assault rifles to be exported to Sri Lanka despite his recent highlighting of the country's human rights abuses, the head of the Commons weapons watchdog has said.

Sir John Stanley, chairman of the arms export control committee, said the government has a "questionable" approach on arms exports to Sri Lanka.
The senior Conservative MP said it was "not credible" for ministers to claim the £8m of weapons exported to Sri Lanka last year were all used to combat piracy.
Stanley questioned the government's position, after Cameron visited victims of intimidation and torture while attending the Commonwealth heads of government meeting in Colombo last week.
The prime minister called for an independent inquiry into alleged war crimes by the Sri Lankan state, as he became the first foreign leader to visit the north of the country where he was hailed by some refugees as "a god" sent to help them.
Stanley told MPs: "If I may be presumptuous and bring God down to earth for a moment, I ask the prime minister and his fellow ministers to address arms exports and internal repression in Sri Lanka.
"I do not need to recite the appalling human rights abuses that have taken place in Sri Lanka. I strongly support the prime minister in his calls for an international independent inquiry.
"However, against that human rights background, the house will wish to consider the British government's arms export licence approvals in just nine months of last year. They included 100 pistols, 130 rifles, 210 combat shotguns, 600 assault rifles, unknown quantities of small arms ammunition and unknown quantities of machine guns.
"I hope that the minister will not say that these were all for counter-piracy, because I do not find that a credible answer, particularly when combined with the complete list of the 49 extant arms export approved licences to Sri Lanka."
More than £8m of weapons were legally exported to Sri Lanka in 2012, which is not subject to an arms embargo but classed as a country of concern by the UK government.
Alistair Burt, a foreign office minister, has said this was approved because the weapons were sold not to the military, but private security companies engaged in the fight against piracy in the region.
Campaigners have raised concerns about oversight of weapons intended for anti-piracy operations. In a committee hearing with MPs, Oliver Sprague, programme director at Amnesty International UK, said he had no specific evidence of diversion but the robust controls on sales of small arms overseas seem to be "thrown out the window" when anti-piracy is concerned.
Responding for the government, Michael Fallon, a business minister, said the UK "assesses all export licence applications to Sri Lanka case by case, in accordance with the consolidated and the national criteria".
He added: "Decisions on Sri Lanka, of course, take into account alleged violations of international humanitarian and human rights law during the military conflict that ended in 2009, as well as the nature of the equipment.
"Arms exports to Sri Lanka have increased recently, as we have issued a number of licences for weapons and other equipment that will be used by maritime security companies undertaking commercial anti-piracy work.
"Those ongoing efforts to fight piracy are important for international trade and security
Sir John Stanley, chairman of the arms export control committee. Photograph: Martin Argles for the Guardian

Rowena Mason, political correspondent
The Gaurdian