Deraniyagala Where people only know the meaning of fear
On Thursday, the sister of the main suspect, Anil Champika alias 'Atha Kota' , a former UPFA Pradeshiya Sabha Chairman who unleashed terror in the area had returned to the Noori estate to pluck tea leaves by force in a part of the estate–a practice they reportedly indulged in for many years. This was in spite of the presence of the Special Task Force (STF) who have been deployed to give security to the villagers.
Estate staff had informed Deraniyagala Chief inspector Prabath Deshbandua of this new development and the woman was arrested.
But hours later she was released on police bail after a politician in the area had intervened, the Sunday Times learns.
Later in the night the Officer in Charge of the police station received transfer orders and was posted to Padiyathalawa. He served only for 19 days in the station after the entire staff of the Deraniyagala Police station were transferred for failing to inquire into complaints by villagers about atrocities allegedly committed by 'Atha Kota' and his henchmen.
Ironically the developments came hours after the family members of the former estate manager and the senior management of the Noori estate met with US Embassy officials. The management and family members had told the US officials that they were satisfied with the ongoing investigations and that a new OIC was in charge,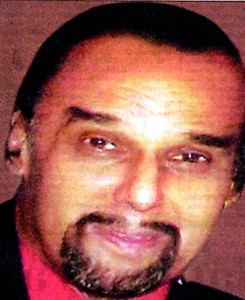 046-02
Nihal Perera
The Noori estate is managed by an American company – Walters Bay, one of the biggest tea suppliers to the US market
Villagers however claim they continue to be threatened by family members of the suspects who are in remand custody.
Meanwhile, B. H. Siripala, a retired employee has come out strongly against "Atha Kota" and his gang, encouraging villagers to lodge their complaints about atrocities committed by the gang before and after the murder of Mr. Perera .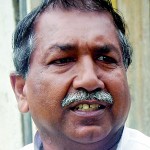 DSC_1439
B. H. Siripala
"I was in the town last Wednesday when 'Atha Kota's sister-in-law threatened me, saying she would kill me if I continued my campaign," Mr. Siripala said.
"We fear for our safety. In spite of the presence of the police and the STF villagers are being threatened openly. People have even been assaulted," he said.
"A woman from the area was beaten up by a group of people during the daytime last Wednesday for refusing to allow her house to be used as a place to produce and sell illicit liquor. It was 'Atha Kota's' sister –in-law who had made the demand, he said.
The sudden transfer of new OIC has also disturbed the villagers, Mr. Siripala said.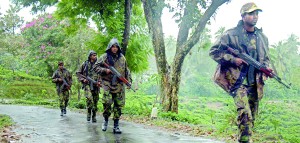 DSC_1429
Army on the lookout in the village. Pix by Nilan Maligaspe
However, Police Spokesman, SP Buddhika Siriwardena said that the transfer of OIC Prabath Deshbandu was a 'routine transfer'. He said the OIC was replaced by the Neluwa OIC, Isnpector Gayan Prasanna.
After the murder of Mr. Perera, 21 suspects including 'Atha Kota's nephew was produced in the Awissawella Magistrate courts and nine of them were identified as suspects. (See Magisterial inquiry report on this page).
"Illicit liquor and drugs have been the family business of Anil Champika and poor villagers were forced to buy "kasippu' and "marijuana" from them. If they disobeyed they were stripped and assaulted," K.V Padmakumara, a cultivator from Deraniyagala area told the Sunday Times.
He said Anil Champika and his gang continuously harassed his family, burned down his house and assaulted him and his elder son with the support of the police for taking a stand against them. He said the police have failed to arrest the 'big guns' in Anil Champika's gang and his family and other villagers are still being harassed.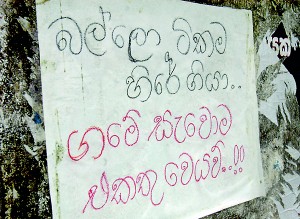 DSC_9334
Posters calling on villagers to unite
"Atha kota and his gang shot at my son, they assaulted him brutally and broke his legs and an arm for taking a stand against them. He was a prominent member of the youth movement in the area. He moved away from the village for the sake of his family," Mr . Padmakumara said.
He said he was harassed by Atha Kota and his goons over a dispute regarding a 50-acre property that once belonged to his brother, K.V. Ramyasiri and worth more than Rs. 60 million.
"While he (Atha Kota) was the Pradeshiya Sabha chairman, he had asked my brother to pay Rs. 500,000 to approve a street line connection for his land. My brother lodged a complaint at the Commission to Investigate Allegation of Bribery or Corruption (CIABC) and got him arrested. Now, he has sworn to kill my brother, his family and me," Mr. Padmakumara said.
'Atha Kota' would always use the name of Chief minister Mahipala Herath to show he had political clout.
Mr. Padmakumara said Anil Champika lost his nomination for the post as Deraniyagala Pradeshiya Sabha due to a petition sent by him and his brother regarding his ineligibility to the position. He added that due to the dispute he had to sell off the Rs. 60 million worth property for Rs. 10 million.
Both brothers criticised police inaction in the face of mounting complaints from the people. They said even Kegalle police headquarters was unable to take action due to the Chief Minister's influence.
U. L. Chandrasena, a manager at a private tea factory, told the Sunday Times that the police have still failed to gain the trust of the people because of their continuing ties with 'Atha Kota's gang and their incapability to crack down on the goons still roaming large.
"We were even forced to buy fertilizer from him," he said.
In another incident 'Atha Kota' had attempted to rob 350 kilograms of tea leaves in March this year. The owner had contacted a Deputy Inspector General of Police and got a complaint lodged. There is a case pending against him now," he said.
He also accused the former chairman, his nephew and other henchmen for sexually abusing young girls between the ages of 14 – 16 and later getting them married off to older men, as compensation.
Sabaragamuwa Province Senior Deputy Inspector of Police Lalith Jayasinghe declined to comment on the current security situation in Deraniyagala.
Meanwhile, Police Spokesman SP Siriwardane said the Police and STF are providing adequate security of the people and that necessary measures are being taken against the violators of the law.
He said a separate unit has been set up to receive complaints about previous incidents involving Atha Kota and his terror gang.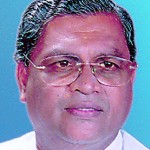 Mahipala Herath copy
Add caption
CM's personal security officer answers mobile, says no commentSabaragamuwa Province Chief Minister- Maheepala Herath could not be drawn into comment with regard to allegations that those arrested in connection with the murder of Noori estate manager Nihal Perera were working under his patronage.
His Personal Security Officer who answered Mr. Herath's mobile phone said the Chief Minister had instructed him to say that he was not willing to answer any questions regarding the Noori estate incidents.
Several attempts were made to contact the Chief Minister.
Magisterial inquiry: The killing of Noori estate managerThe Manager of the Noori Estate, Deraniyagala, Nihal Perera, was hit with a pole and then slashed with a sword, a magisterial inquiry was told last week.
The inquiry was held on July 24, before Awissawella Chief Magistrate D.H.A.Seneviratne.
"Amila and a crowd came chasing behind the manager, then Ranga hit Nihal mahattaya with a pole. When he fell, Unga slashed sir with a sword," Sududu Thilanga a tea factory officer of Noori estate said, recalling the incident and naming the suspects.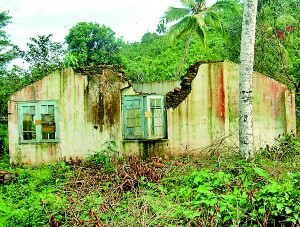 DSC_1496
The lonely spot where the estate manager was taken and beaten up before he was killed
"I work as factory officer and around 9 a.m. while having meals with Bandara and Suranga, Ganesh came running and said that sir is in trouble. We ran out and saw a crowd chasing sir. Ranga hit him, he fell down and he was attacked with a sword by Beedi Unga," he said.
"Amila was heard saying, hit him and kill him, while there were about 15 including Palayandi, Ranga, Amila, Sashikumar Udayakumar. We shouted not to hit him and we were told not to be witnesses. Sir was groaning in pain and there was nothing we could do. I came to the official residence and used a mobile to phone the headoffice. Some one shouted that I was giving a call. Palayandi came and removed my phone and Bandara's phone. Amila and others took Nihal sir towards the factory," he said.
"Then Palayandi came and gave back the phones. Sir was taken in a cab up to the end of the Deraniyagala roadway. For half an hour I did not know what had taken place. I then got a call from a PS member on Chandrakukara's phone. We were asked not to stop work. We got scared that we would be attacked. We went to the bungalow later. There was no transport to take the injured and none wanted to come along. Later, I took the injured by cab to hospital," he told the inquiry.
"Sir did not have any clothes on him. I just put a piece of cloth over him and I put him into the cab and with two others we went to hospital. Later, we heard that he had died. I did not mention this in my report to Deraniyagala police as Ranga threatened that the same thing would happen to me. There were threats for a long time," he added.
Sescurity officer Warnakulasooriya R. Wasantha giving evidence said he was assigned to provide security to Mr. Perera with the help of three others, Faleel Kumara and Sunil.
"On the day of the incident, July 5, Faleel and I went with Sir. Then Kumara came to the factory. The three of us went to the junction at Faleel's request. Then Kumara got down and gave a call. He asked which way we should come. Kumara went forward and said Nihal sir is there," he said.
"At this time Amila's cab came with some men. Amila had a grouse with us. There were about 15 men carrying poles and swords etc. They started to assault us. There were about three men whom we knew. We did not know why they were attacking us. They took us in a cab while Amila took sir's cab and drove towards the factory," he added.
"Close to the factory after we stopped, Amila's brother came in. They ran towards the slope and I hid in a room. Then they brought Nihal sir and dumped him in the cab. It was same men who attacked us. Amila asked where the other two are. They took two of us and dumped us in the cab too," he added.
"We were taken to a lonely spot. Sir did not speak then. We were dropped there. Sir asked for water. Amila removed our clothes and sir's clothes and cut them with the sword. Amila said he would break Faleel's hands. They took sir to the cab's rear and dumped him. His mouth was cut. His head was bleeding. Amila then drove the cab again and we came to the carpeted road. Amila gave me the key of the cab saying that he cannot drive."
"By now my hand was broken and I drove with my left hand to the bangalow. I changed and gave a sarong to Faleel. Sir was taken to a room where he was seen by a doctor. Sir died within five minutes after admission. We were transferred to the Karawwanella hospital. Then we gave statements to the police."
Chamal Weerakkody
ST