Image: Poonani Covid detention centre. (The Leader)
Our younger sister's eldest son Mahesh has died. This morning.
The child was forty-four years old at the time of his death. He is a father of two little daughters. The elder girl is twelve. The little one is nine.
This is the first nephew in our family.
Video: How t a critically ill Covid patient loading onto a tractor at Poonani Covid camp.
We brought up the boy in our family because we loved him so much. The smell of his poop still lingers in my hands.
The boy is an art lover. He never missed a good book of poetry, a novel, a film, an Indian, or a Western concert.
He loved literature. The boy's favorite novel is Sekara's Thunmanhandiya. He was often told that he loves the character of Loku Mama in the novel.
Mahesh is the epitome of innocence. I'm sure anyone who has known him will approve of my description.
When I think this boy is dead, my heart breaks.
My boy did not die, he was killed. This government should be responsible for the death of my Child.
My child became Covid positive. He was taken to the Kalubowila Hospital from Ambuldeniya where he lived.
After two days without any treatment, the child was taken to Poonani on a bus with other patients.
It took eight hours to complete the arduous journey at night.
Poonani is a raw hell. I do not need to write about it weirdly. There were no treatments. There is no water to drink. Water was provided by a browser.
Since there is no elevator, patients on the fifth floor must go downstairs to get some water. Sometimes lunch arrives at four in the afternoon.
The little ones were there with their mothers. Mothers fought each to get leftover spoiled cooked rice to feed their little ones. No pillows to sleep on. The toilets are overflowing.
One day my boy was in pain for hours. But he did not receive any treatment. They gave him an inhaler and told me to inhale it from time to time. There is no telephone to call Poonani to get information. We only knew what other boys said.
A cousin of my son from Kurunegala brought some fruits and some tea and sugar. Without them, they would starve to death.
One day came a telephone call from Poonani.
"Uncle, they're going to put me in an ambulance and take me somewhere." The boy was finding it difficult to breathe. The call disconnected in a while. We called around the country to find the place our son was taken. Finally, the Sarvodaya Emergency Response Unit helped to find the hospital where the child was taken.
My child was in Welikanda Hospital for two days. On the morning of the second day, the child called and begged me, "Uncle, call the doctors here and ask them to let me go to the toilet."
I asked, " my son, aren't nurses attending?" Then he said, "Oh, uncle, I told them several times, they do not respond. "
It was from Colombo that I begged the doctor at Welikanda to let the child go to the toilet. That was the last conversation we had.
That afternoon the child became ill, and they began to give him oxygen. It was seven in the evening when I found an ambulance to move him to another location with health facilities.
After a grueling seven-and-a-half-hour journey, the child was taken to Kotelawala Defence Academy hospital. It was half past one in the morning.
Since then, we have been counting fingers that the child will be better today or tomorrow. But this morning (16 May 2021) the child closed his eyes forever.
Within this whole incident lies the inaction of this miserable government. There is no need to comment on it. There is ample evidence.
The child's wife and two daughters have no way of seeing their husband and father for the last time.
The cremation of the child will take place at Boralesgamuwa Cemetery tomorrow (17th) morning.
Our life has to start anew from today.
I will not be able to get rid of your scent for the rest of my life, my son. Have a peaceful journey, my darling.
(Translated from Sinhala Facebook post.)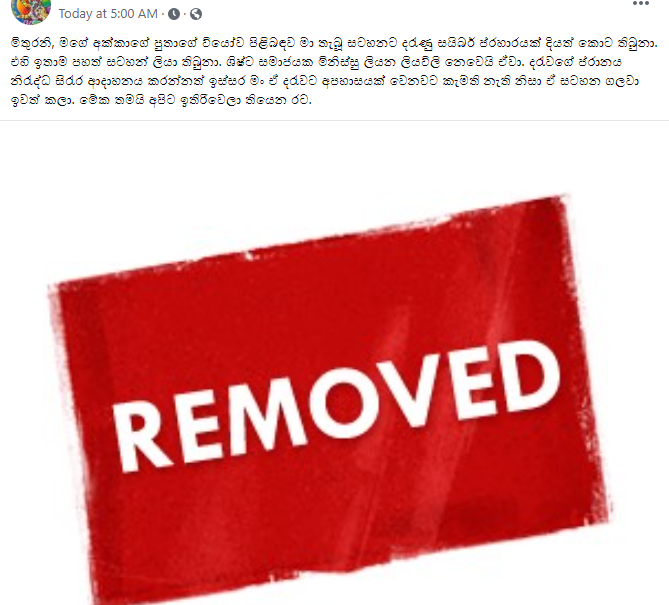 The author of this post has removed the post due to a large number of cyber-attacks he received against the post.  That is why we have removed the names in the story.  Sri Lanka Brief is publishing this story in the belief that people of this country have a right to know the truth.)